The year-end season is a peak period for travel, making many popular destinations too crowded for comfort. When you're trying to have a relaxing holiday, the last things you want are snaking queues, long waiting times and elbows poking into your personal space at every turn.
To help you beat the crowd, here are five alternative destinations to consider for your year-end trip.
Related: Travel Diaries: 5 Safest Travel Destinations in the World
Kaohsiung, Taiwan
Located at the southern tip of Taiwan, the port city of Kaohsiung offers plenty of the same attractions as Taipei – but with much more space and lesser crowds all round. You'll find you can breathe easier with wide open boulevards and open skies, and even the buzzy night markets can feel a lot more relaxed than you'd expect.
Some of the city's highlights include the Pier 2 Art Centre, a harbourside attraction chock full of art galleries, flea market stalls, cafes, and souvenir shops, and the nearby Love River, recommended for evening walks and golden hour photography.
There are also contemporary art museums, shopping districts, old streets filled with quaint shops, generations-old family-run restaurants tucked away in winding lanes, and of course, night markets filled with favourite Twianese treats.
As a bonus, Kaohsiung is also generally cheaper than Taipei, so your holiday budget will go a little further here.
Hua Hin, Thailand
For a taste of Thailand beach vibes without the rowdy crowds of Phuket, try Hua Hin. Located just hours away from Bangkok, the lesser-known beach resort town is ideal for an unhurried trip made up of sun-filled days, gorgeous views, and historic architecture.
By day, explore the magnificent Phraya Nakhon Cave in Khao Sam Roi Yot National Park, bask in some Greek vibes at Santorini park, go for afternoon tea at the Railway Museum, or simply laze the day away at the edge of crystal blue waters.
Come nightfall, feast on Thai street food at Hua HIn Night Market, haggle for handmade souvenirs and unique artwork at Cicada Market, or trawl for international brands at Hua Hin Market Village.
Jeonju, South Korea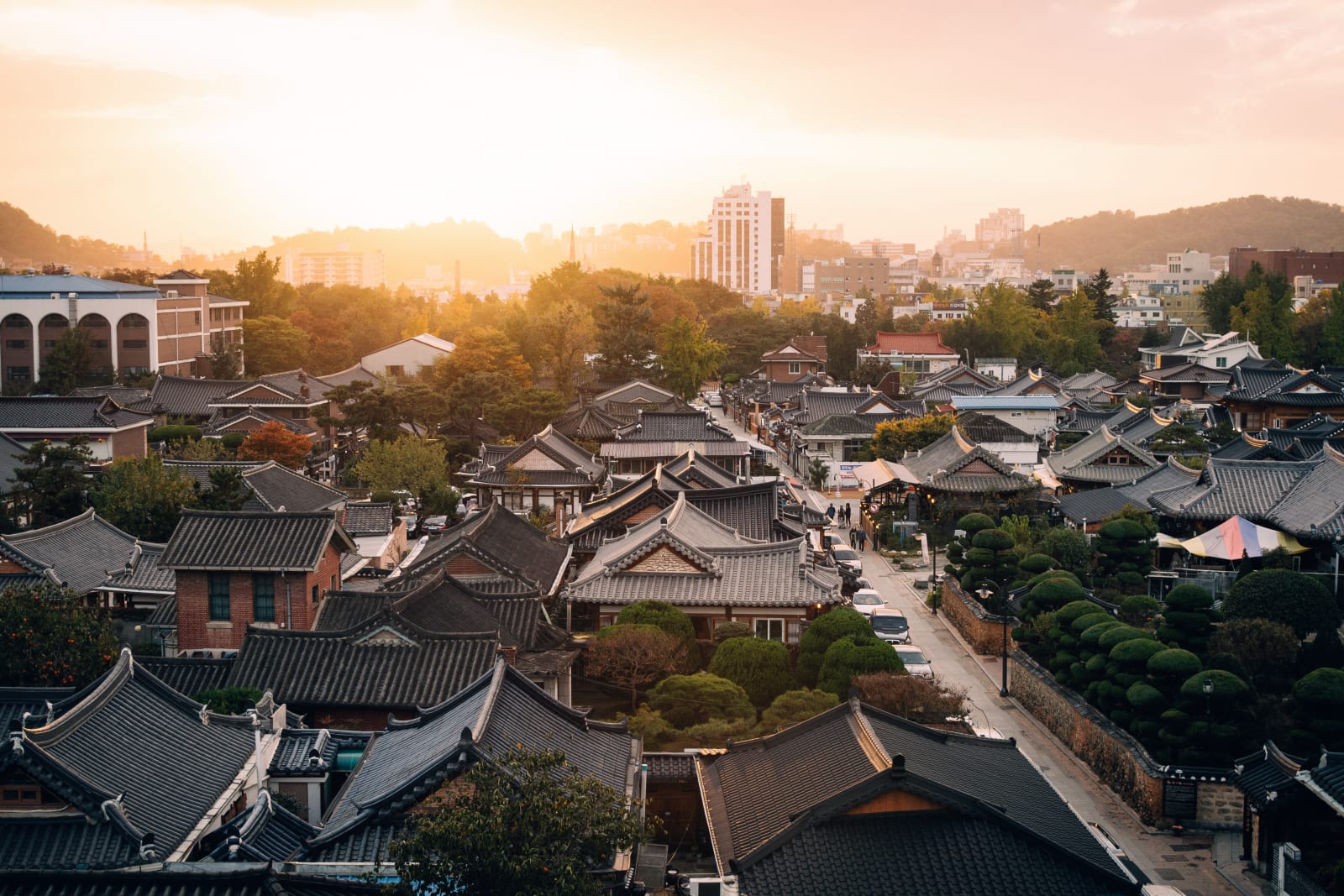 Tucked away in the southwest, Jeonju, a charmingly laid-back city filled with traditional Korean architecture, including hanok villages, temples and shrines. Behind its rural character, Jeonju stands as one of Korea's centres of gastronomy, offering a deep dive into authentic Korean cuisine to those who come in search of it.
The birthplace of makgeolli, Jeonju is filled with bars specialising in the milky spirit made from fermented rice. For non-alcoholic options, head for the aptly named Coffee Street (Jeonju Gaekridan-gil) instead, a busy thoroughfare filled to the brim with trendy cafes and hipster vibes.
Kurashiki, Japan
Known as the "Venice of Japan", Kurashiki features waterways framed by greenery-filled banks flowing amidst classical Japanese houses. Its former glory as a wealthy trading hub in the past is still palpable here, and the best way to take in the sights is with a languorous boat ride on calm waters.
The birthplace of Japanese denim, Kurahiki today has become something of a best-kept secret among fashionistas. The town's Kojima District is your best source for authentic Japanese denim, great as unique gifts or souvenirs. It is also where you can try denim blue ice cream.
Meanwhile, the Kurashiki Bikan Historical Quarter offers striking temples, traditional sights and photo-taking opportunities.
Colmar, France
The lesser-known French town of Colmar makes for a great alternative destination for a winter-themed holiday without the maddening crowds. It is known for its Christmas markets, which open as early as November, creating a lively Yuletide atmosphere everywhere you turn.
The town enjoys a relatively mild winter with gentle snowfall deeper into the season. Its cobblestone streets lined with mediaeval European houses make for a magical sight in the snow, like something straight out of a fairy tale movie.
In fact, Colmar was the actual, real-life inspiration for the town depicted in the Disney classic Beauty and the Beast, so Disney fans definitely shouldn't miss paying a visit!
Related: Travel Essentials for Every Trip – From the Best Travel Insurance to Miles Credit Card
Best travel insurance for your year-end holiday
Singlife Travel Insurance – Best Value
With a winning combination of high coverage and affordable premiums, Singlife Travel Insurance tops our list as one of the best value travel plans in Singapore.
You will receive robust coverage for customary benefits such as overseas medical expenses (from S$250,000 to unlimited), loss of baggage and personal items (up to S$8,000) and trip cancellation (up to S$20,000), along with up to S$500,000 for accidental death and disability.
In addition, you will also receive cover for rental car excess, as well as loss of frequent flyer points, which are not commonly included. Also, Singlife offers cancel-for-any-reason, allowing you to claim benefits if you need to cancel your trip or change your travel dates for non-emergency reasons not stated in your policy.
MSIG TravelEasy Pre-ex – Covers Pre-Existing Conditions
Travellers with ongoing health issues such as high blood pressure, asthma and eczema, etc, can look to MSIG TravelEasy Pre-ex for assurance during their year-end holidays.
This plan covers pre-existing conditions, so you don't have to worry about losing your benefits should your condition flare up when you're overseas.
With MSIG TravelEasy Pre-ex, you can enjoy up to S$1 million cover for overseas medical expenses, up to S$7,500 for luggage and personal belongings, and up to S$15,000 for travel cancellation.
COVID-19 coverage is also included by default, while the Elite and Premier tiers also offer adventurous activities cover, golfer's cover and cover for rental vehicle excess.
Tiq Travel – Cheapest for Asia
Tiq Travel ranks as one of our top picks for trips to ASEAN and Asia countries on account of its low premiums.
Travellers seeking a budget-friendly plan should choose the Entry tier, which provides up to S$200,000 for overseas medical expenses, up to S$2,000 for baggage and personal items, and up to S$5,000 for travel cancellation.
If higher coverage is desired, the Savvy and Luxury tiers offer larger claims limits at higher premiums.
While it's understandable to want to save as much money as possible, be careful not to go too far and end up under-insured. When in doubt, higher coverage is always better.
Looking for more travel insurance options to cover your year-end holiday? Find out what other plans we recommend among the top travel insurance plans in Singapore.
Read More:
Travel Essentials Checklist For Your Family Vacation
How Travel Insurance Can Protect Your Refund Rights for Flight Cancellations and Delays
How To Survive and Thrive as a Solo Traveller
4 Financial Travel Tips for Singaporean Retirees
5 Tips For Travelling On A Budget
The article originally appeared on ValueChampion. • ValueChampion helps you find the most relevant information to optimise your personal finances. Like us on our Facebook page to keep up to date with our latest news and articles. • More From ValueChampion: • Travel Essentials Checklist For Your Family Vacation
How Travel Insurance Can Protect Your Refund Rights for Flight Cancellations and Delays
Would you like to receive notifications on latest updates?
No
Yes