SINGAPORE: Workers' Party MP Louis Chua (Sengkang GRC) announced in a Facebook post on Tuesday (Feb 28) that the BTO project Rivervale Shores will soon be handed over to residents, albeit progressively, from the next few months till the third quarter of this year.
"Existing residents will have something to look forward to as well! Soon we will be having more than one coffeeshop, and one convenience store in #Rivervale…but there'll be eating houses, restaurants, a supermarket, and some retail shops at Rivervale Shores too. These will be tendered and fully operational hopefully by the middle of 2024," he added.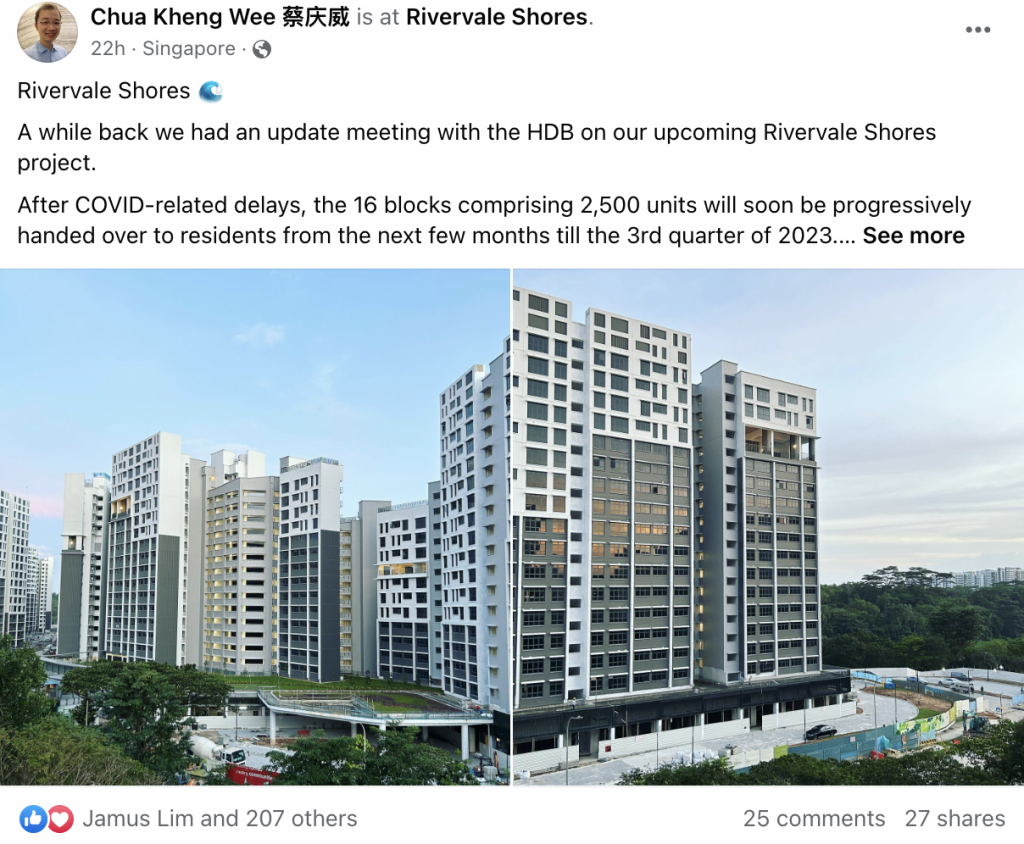 Rivervale Shores is bounded by Tampines Expressway and Sengkang East Drive, about 10 minutes, or 750 meters, away from Bakau LRT.
This issue appears to be an issue that is close to the heart of Sengkang residents as well as Mr Chua himself, who spoke in Parliament in January about "forgotten neighbourhoods" where there is only one coffee shop and convenience store in the entire division, as has been the case thus far in Rivervale, the ward he represents.
"Many residents have often shared with me and my fellow Sengkang MPs about the lack of coffee shops and everyday conveniences in their neighbourhood. Within my Rivervale division, for example, while it is great that Rivervale Plaza and Rivervale Mall provide various retail offerings for those living in the immediate vicinity, there is only one coffee shop and one convenience store in the entire division," Mr Chua said then.
This is potentially difficult for people who are older or for whom there are challenges in mobility, such as those who are disabled, he added.
As in other areas, there have been some delays in finishing the Rivervale Shores project, which comprises 16 blocks comprising 2,500 units m due to the Covid-19 pandemic.
He added in his Feb 28 post that "While there's still quite a bit of room to go in terms of accessibility of food and retail options within #SengkangGRC, which I will again speak up on later this week in Parliament, as the saying goes, better than nothing."
Mr Chua ended his post by writing that he looks forward to welcoming the new residents to the WP's #TeamSengkang family later this year.
In January, Mr Chua said that if his childhood had been spent in present-day Sengkang instead of Ang Mo Kio where he grew up, he wouldn't have been able to buy lunch for himself.
He urged the Housing and Development Board to look at neighbourhoods or precincts "such as Sengkang, which are currently underserved."
Mr Chua also suggested that the unused parts of Multi-Storey Carparks or MSCP could allow commercial spaces, even if these would not be allowed for coffee shops. /TISG
Louis Chua on Keppel corruption case: Non-prosecution of the 6 involved could damage Singapore and its reputation
The post WP's Louis Chua: Soon we'll be having more than 1 coffeeshop and 1 convenience store in Rivervale appeared first on The Independent Singapore News – Latest Breaking News