CRISTIANO Ronaldo was Sir Alex Ferguson's boy. He'll always be Fergie's boy. When the Portugal captain trotted down the stairs in Paris, after lifting the Euro 2016 trophy, Ferguson was waiting for him in the stands, half-giddy groupie, half-proud parent, eager to embrace one of his favourite football sons.
Ferguson turned the boy into a man. Erik ten Hag sacked the monster.
That was the real passing of the torch at Manchester United, from one angry manager to another, a moment of clarity after too much reverence to fading icons and reputations.
Ole Gunnar Solskjaer incorrectly assumed that he needed to bring the heritage back to Old Trafford. Ten hag has brought back the fury, that simmering rage, barely concealed beneath the quirky accent and a Bond villain-like knack of smiling in weird places.
United possess the angriest man in the building once more, but he isn't Ronaldo, or Luke Shaw, or Harry Maguire, or the Glazers in the boardroom or Roy Keane in the studio. He's where he should be, in the dugout, treating the club's inflated opinion of itself with the contempt that it deserved after six years of denial and decline.
United's first trophy since 2017 – a comfortable Carabao Cup triumph over a transitional Newcastle United – is not the beginning of an era, but the continuation of an understated autocracy. Ten Hag listens to no one, but his inner voice. He's in a noise-cancelling headspace, allowing himself to tune out the irrelevant and the perpetually hysterical.
David Moyes, Louis van Gaal and even Jose Mourinho could not do that. The job was too big, the infernal din too incessant. All English Premier League clubs suffer with varying degrees of noise pollution. At United, the mania is unrelenting.
The club's global interest and fanbase reach stalker-ish levels of obsessive adulation. It's like a Harry Styles gig 24/7, but mostly filled with screaming men demanding more, always demanding more.
Solskjaer tried to lean into the fandom, selling himself as a direct link to United's boyband prime. But ten Hag has no interest in the back catalogue. He comes across like a petulant teenager dismissing the greatest hits of a washed-up supergroup.
Ronaldo used to be the most engaging frontman in the business? Don't care. Maguire was the beloved boy next door for club and country? Don't care. United boast a number of charismatic superstars that still shift merchandise ? Don't care.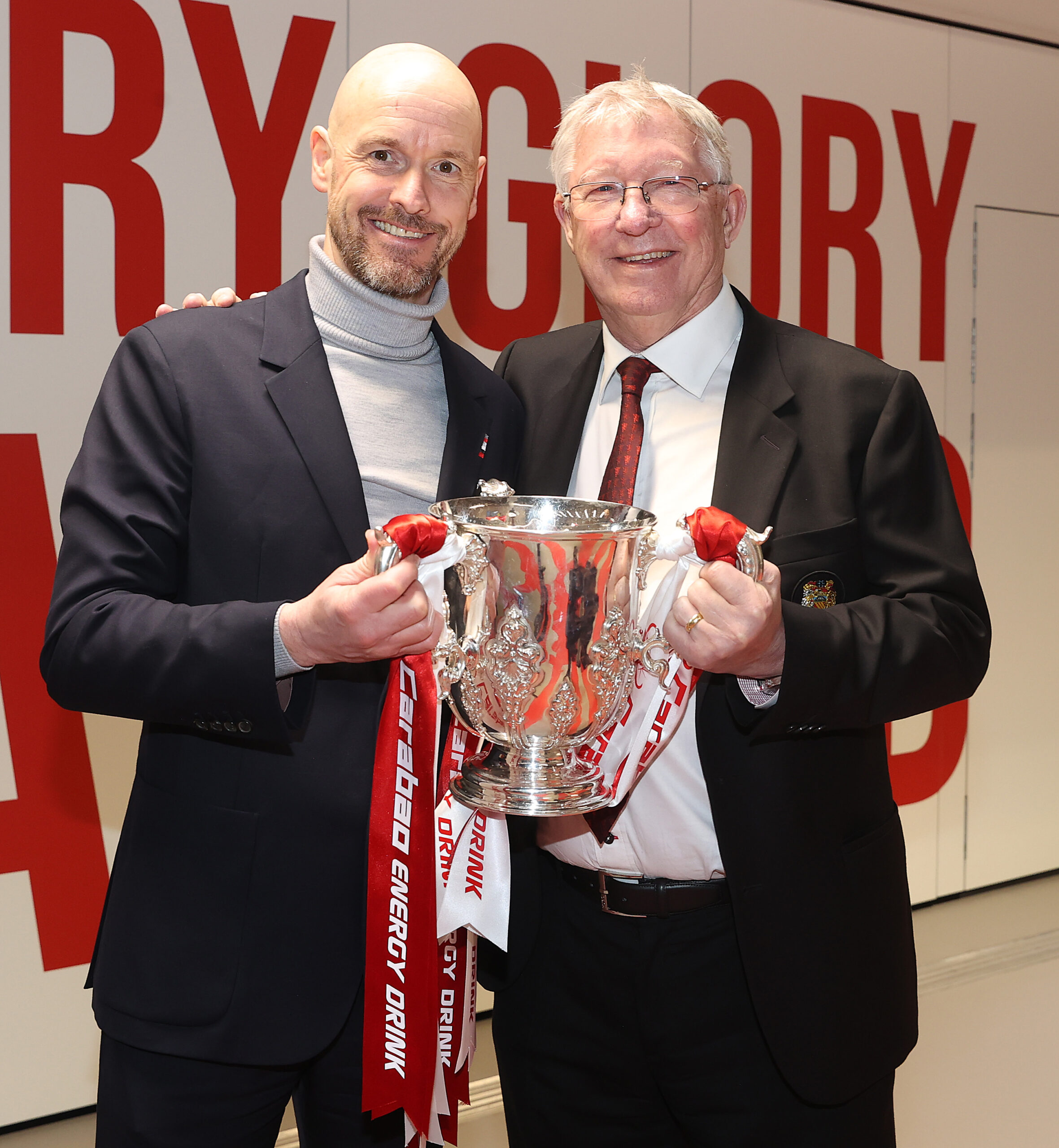 No benign uncle as ten Hag replaces panic with pragmatism
Ten Hag effectively blocked out the tedious droning about history, legacy, the Class of '92, the Manchester United way, the endless bleating from old boys in the commentary box and myopic whining on fan forums. He was stamping his foot and doing things his way. But his child-like responses make him an adult among zealots with a puerile obsession with the club's past.
The Dutchman made a clean break, remorselessly and effectively. If anything, he came closest to resembling Ferguson when he got rid of Ferguson's chosen one. At a certain point, club legends belong in the hall of fame rather than out on the pitch. Ronaldo was angry, just as Paul McGrath, Norman Whiteside and Gordon Strachan were angry in the late 1980s. But they had even angrier managers. They lost. They left. And United started again.
As the Red Devils celebrate their Carabao Cup win and ponder the possibility of picking up another couple of trophies – via the FA Cup and the Europa League – the giddy image of ten Hag dancing with Lisandro Martínez and Antony, as he once did at Ajax, can obscure reality. He's no benign uncle having a laugh at a family wedding.
He sacked Ronaldo, dumped Maguire, dropped Marcus Rashford for oversleeping, ignored the pundits' sarcasm when he signed the diminutive Martínez, brushed off the widespread incredulity when he picked up Wout Weghorst and collected a trophy in his first season whilst steering the club towards a successful run of just one defeat in 21 matches.
Pragmatism has replaced panic (another characteristic of Ferguson's reign.) The previous six years were littered with broken signings, ranging from last-minute gambles on ageing celebrities to paying too much for the latest flavour of the month.
In other words, United once signed Romelu Lukaku, even though his striking attributes were an obvious mismatch. Ten Hag signed Weghorst to perform a clearly defined role for a limited period: just keep possession and find the attacking trio of Rashford, Bruno Fernandes and Antony. That's it. Job done. Enjoy the Carabao Cup winner's medal.
Is it sustainable? Probably not. But that's not the point. Tactical competence and team compliance have been underrated qualities at Old Trafford for long enough. Ten Hag has brought them back.
He's also improved Shaw, Fred, Diogo Dalot, Aaron Wan-Bissaka and re-energised David de Gea. He's removed cliques, stopped leaks to the press and returned a calm simplicity to the dressing room. His message is unequivocal. Maintain discipline or you're out. Even Ronaldo's GOAT status didn't prove to be a get-out-of-jail card. The rest have got no chance.
For six years, the dressing room leaked like a sieve. Once Ferguson retired, journalists were inundated with "club sources". Since ten Hag arrived, those club sources have gone awfully quiet. The Red Devils appear united again. Fear can do that to people.
Where this season ends is anyone's guess. Talk of trebles and title wins may be based more on hope than judgement. Casemiro continues to mind the gaps that remain at both ends, covering in defence and even scoring at Wembley. And Rashford's astonishing campaign may not fully compensate for a missing No.9 indefinitely.
But these are trifling concerns in many ways, short-terms issues to dominate coffee shop talk, rather than era-derailing obstacles.
The Red Devils are on the move again, their hunger driven by an ascetic coach. They might not be the most talented squad, but they appear to be the most disciplined.
In this regard, ten Hag has already succeeded where his United predecessors failed.
The Red Devils are on the move again, their hunger driven by an ascetic coach. They might not be the most talented squad, but they appear to be the most disciplined.
Neil Humphreys is an award-winning football writer and a best-selling author, who has covered the English Premier League since 2000 and has written 26 books.
Follow the new EPL season with the "Footballing Weekly" show onYouTube,** [Spotify](https://open.spotify.com/episode/39ONdFuzFiL8lEySrZxjvx)and [Acast.**](https://shows.acast.com/footballing-weekly/episodes/blues-for-red-devils-funny-arteta-clip-spurs-to-beat-chelsea)
For more football news, visit ourFootball page on Yahoo!
You can also follow us onFacebook,Instagram,TikTokandTwitter. Also check out ourSoutheast Asia,Food, andGamingchannels on YouTube.