Follow us on Telegram for the latest updates: https://t.me/mothershipsg
Sakanoue Cafe, a Tokyo-based store specialising in Japanese shaved ice (kakigori), is coming to Singapore.
They will be holding a pop-up store for two weeks at Isetan Scotts Supermarket, from Feb. 24 to Mar. 9, 2023.
Menu
A spokesperson for Sakanoue Cafe told Mothership that they are bringing some of its kakigori flavours to its Singapore pop-up.
The Strawberry Ice Cake (S$13): shaved ice topped with fresh cream and strawberry syrup, giving it a light and refreshing taste, similar to that of a strawberry shortcake.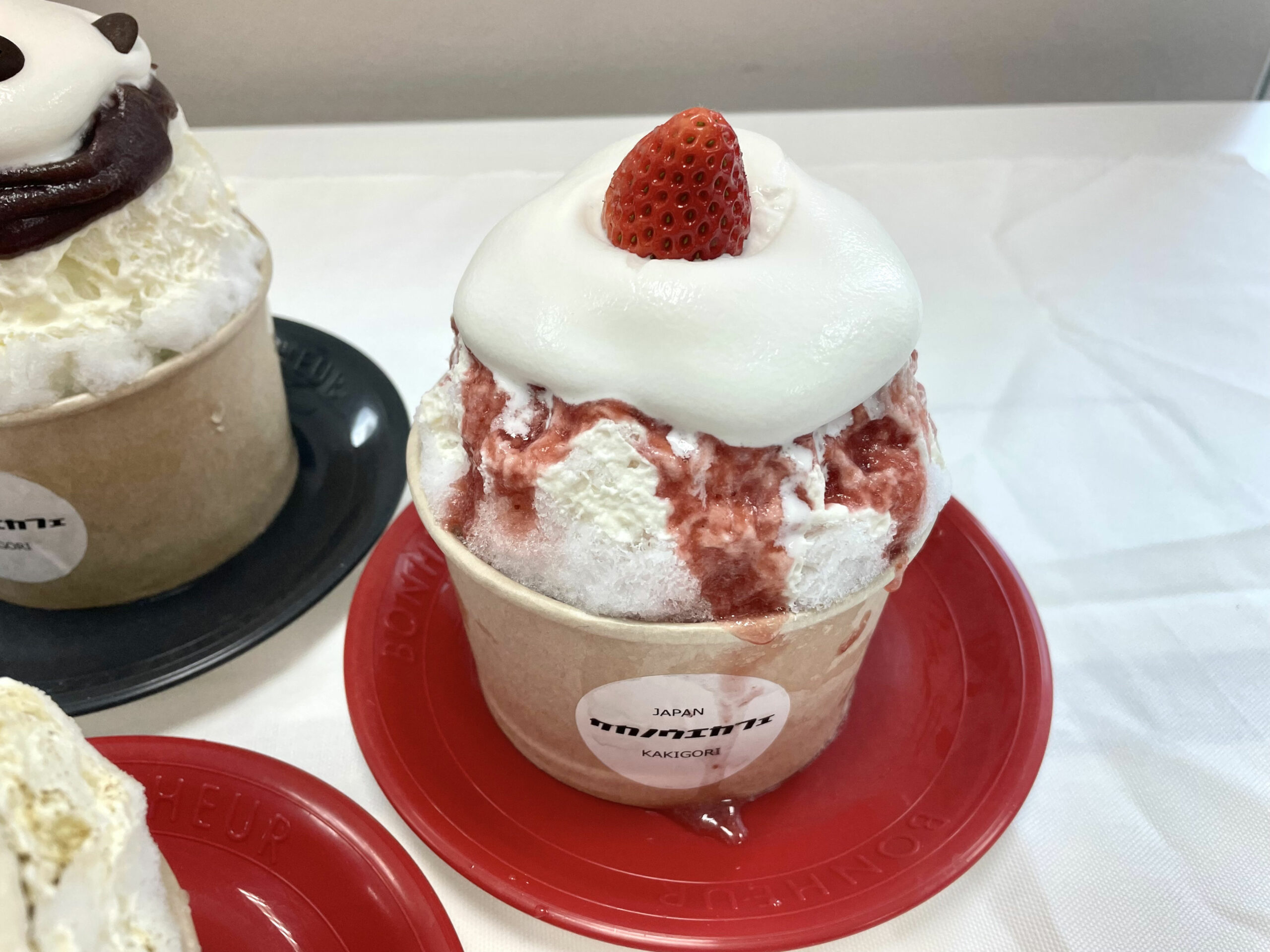 Pistachio Raspberries (S$13): Ice topped with pistachio foam and decorated with raspberry pearl chocolates. Buried under the shaved ice are raspberries boiled in wine, giving the dessert a tangy flavour.
Anko Cream and Panda (S$13): Topped with a sweet red bean paste, fresh cream and chocolate to resemble a panda, this dessert is definitely the cutest item on the menu.
Strawberry and cherry-flavoured glutinous rice are added between the layers of ice, which gives it a nice textural contrast.
Blue Cheese Red Bean Paste (S$13): Savoury and sweet pairing of blue cheese foam and Japanese raw honey.
You'll also find red bean paste and rum raisins among the ice, making it a rather unconventional dessert as a whole.
They also have a (light) alcoholic product named Sake Cream and Cherry Blossoms (S$13).
However, the food items are only available for takeaway due to the pop-up nature of the store.
So no fancy storefront or cafe ambience for us, unfortunately:
A spokesperson added that Strawberry Ice Cake, Sake Cream and Cherry Blossoms, and Anko Cream and Panda flavours will be sold first, with the remaining flavours to be introduced only after the three sell out.
The owner of the café is also exploring the possibility of creating a Singapore-exclusive flavour, if the items are well-received locally.
Popular in Japan
Sakanoue Cafe is well-known for their seasonal-flavoured kakigori, and those in Japan supposedly wait up to four hours just to eat the dessert.
They have two stores in Japan, one in Yushima and the other in Asakusa.
If you are unfamiliar with kakigori, it is something similar to Korean bingsu or our local ice kacang.
However, unlike bingsu, which usually uses milk ice, the Japanese dessert is often shaved from a frozen block of mineral water and flavoured with syrup and condensed milk.
The café's spokesperson has also expressed interest in opening a Japanese shaved ice store in Singapore in the future.
Sakanoue Cafe
Address: 350 Orchard Road, Basement 1, Isetan Scotts Supermarket, Shaw House, Singapore 238868
Opening Hours:
10am to 9pm, daily
Feb. 24 – Mar. 9, 2023
Top images by Hayley Foong and Line Business