After 5 years of development and an investment of nearly US$70 million dollars, mobile game Revelation is finally ready to serve gamers in Singapore and Malaysia on 2 March 2023, from  11am (GMT +8). Developed by NetEase using Unreal Engine, Revelation is an MMORPG mobile game adapted from the renowned global IP – Revelation Online (天谕) that has attained groundbreaking success in South Korea, Japan, China, Hong Kong, and Taiwan, with a dedicated player base which rivals that of gaming giants Genshin Impact and Moonlight Blade Mobile.
While Revelation is set to launch its Open Beta in March, it has already begun its official guild recruitment in Singapore and Malaysia, much to the excitement of local players who are looking forward to exceptional PvP battles with the game's combat system. It will be a mighty test of strength and skill, as well as being the ultimate battle to see which of these two nations has the strongest players!
As the player community continues to buzz with hype and excitement, the game's official channels also dropped an unexpected visual teasing its collaboration with a local female celebrity — further raising players' anticipation on her identity. Despite no formal reveal as yet, the teaser sparked an online frenzy that elevated players' expectations for the upcoming release. Speculations within the gaming community also revealed that popular Internet influencers including Min Chen, Elyn Leong, XiaXue, Cathryn Li, Qiu Wen, and more played a key role in amplifying local interest and attention for Revelation.
Last year, hundreds professional players  across Southeast Asia were called in for an offline Closed Beta Test (CBT) of Revelation, who allgave the game a solid 9 out of 10 rating across the board. The professional gamers tested every aspect of the new title, from graphics to game experience to competitiveness, during the local closed-door testing. Following the test, an official CBT was conducted in the region where players were vying to apply for limited slots to pre-experience the game in advance, a further testament to the sheer level of anticipation the game has.
To celebrate Revelation's upcoming launch, players in Southeast Asia will have an opportunity to win exclusive prizes worth up to RM100,000 / SGD35,000 when they register and play the game from now till 16 March 2023. The premium and exclusive prizes up for grabs include a 1.2-carat diamond, a small Lady Dior handbag by luxury fashion brand Dior, and an iPhone 14 Pro Max.
Gamers who participated in the pre-registration will also enjoy an array of in-game perks* exclusively prepared by the developers for testers as follows:
| | | |
| --- | --- | --- |
| Tier 1  | 250,000 Pre-registered  | x5 Black Tortoise Soul + x20 Spirit Elixir (S) + 02 Event Gacha Ticket  |
| Tier 2  | 500,000 Pre-registered  | x30 Alchemical Dice (Epic) + 02 Event Gacha Ticket  |
| Tier 3  | 1,000,.000 Pre-registered  | x30 Rhino Horn (S) + 02 Event Gacha Ticket  |
| Tier 4  | 1,500,000 Pre-registered  | x2 Rebirth Seal + x2 White Tiger Soul + 02 Event Gacha Ticket  |
| Tier 5  | 2,000,000 Pre-registered  | x10 Epic Gem Gift Box + x99.999 Nimbus Coupons + 02 Event Gacha Ticket  |
*Players will need to sign-up an account and create a character by 4 March to receive the gift packs; all gift codes will be sent via e-mail.
The reason behind Revelation's immense popularity in Asia is not just its intense, open-duelling system that has impressed even the most seasoned of MMO players, but also because of its breathtaking, oriental-inspired art style.
Riding on the success of Revelation Online, Revelation holds nothing back in bringing players highly explorative and imaginative 3D fantasy worlds where they can venture on mysterious journeys of all sorts, ranging from free nature environments to deep oceans that are developed with Unreal Engine, the world's most advanced real-time 3D creation tool for creating immersive experiences.
To top it off, using nothing but the best artificial intelligence (AI), Revelation allows players to fully customise their avatars with unique personalities and facial features with the latest 3D face-molding technology. It's not every day we get to see a level of detail from the very foundations of shape and skin but Revelation surely delivers!
To allow players a first-hand experience of the game's innovative 3D face-molding feature, Revelation will be opening up its character customisation feature starting on 27 February, to allow players to log in and personalise their character creation prior to the game's official launch. With this, players will be able to personalise their character's appearance down to the smallest of details with a vast range of customisation options, from incredible clothing styles and accessories to even finetuning their avatar's eyelashes and pupils. Players who participate in Revelation's Southeast Asia regional character design competition will also earn a chance to win in-game loot!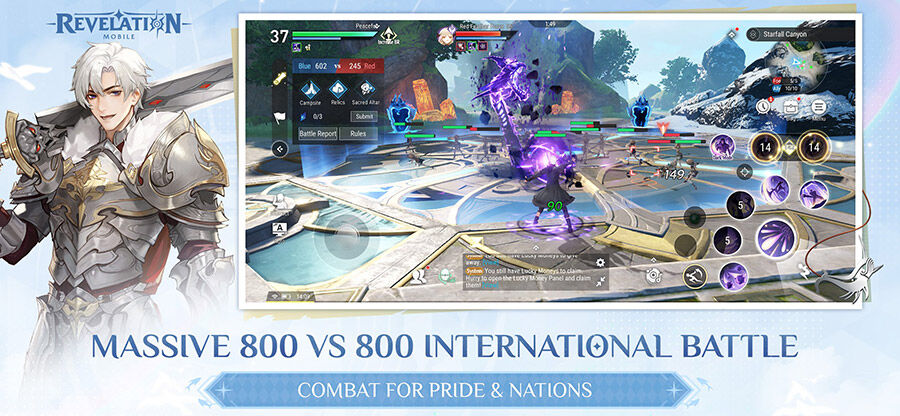 With the game's globally-raved reviews and spectacular visuals and performance, it's safe to crown Revelation as the most highly-anticipated fantasy MMORPG masterpiece of 2023! Revelation will soon be released exclusively by VNG GAMES in the Southeast Asian region, and the game is now available for pre-registration. For the latest news and updates on all-things Revelation, check out the game's official website, Facebook page, and Facebook group.
This article is brought to you together with VNG Games.
Passion and love mean little to the Baroness. No man can ever be her master. Where there's terror to be sown and coin earned, that's where she will be with guns akimbo.
The post Global MMORPG Phenomenon 'Revelation' Starts Open Beta In Singapore & Malaysia On 2 March 2023 appeared first on Geek Culture.
Would you like to receive notifications on latest updates?
No
Yes