China's US$100 billion online English tutoring industry had 'Rolls-Royce' and 'General Motors' companies that employed North Americans and Filipinos respectively
Pay disparity, demand to be always 'animated', and the effect on teachers from different backgrounds of the industry's sudden crash are shown in English Hustle
For his documentary English Hustle, filmmaker Charles Abelmann initially set out to document the lives of some of the 100,000 teachers in the United States, and a handful of the 3 million Chinese children they taught online through fast-growing tutoring companies in China collectively worth US$100 billion.
"Initially I was motivated by the size of the industry, like how many teachers there were, how many kids there were, and that it hadn't gotten a lot of attention from the education side, and plenty of attention from investors. There are hundreds of billions of dollars thrown at this, and yet, it was unregulated," says the educational researcher on a video call from Washington, in the United States.
He was fascinated not only by how this online tutoring industry worked, but also what millions of Chinese children learned from the American teachers on an educational and cultural level.
Do you have questions about the biggest topics and trends from around the world? Get the answers with SCMP Knowledge, our new platform of curated content with explainers, FAQs, analyses and infographics brought to you by our award-winning team.
Then, in July 2021, everything changed overnight as Beijing implemented its "double reduction" education reform. In an aim to free students from excessive classes and homework, the policy banned classes on weekends and holidays, and prevented for-profit tutoring companies from raising money in the stock market and from having foreign investors. As a result, tens of thousands of their teachers were laid off.
English Hustle accordingly ended up charting the rise and fall of the lucrative industry, which, even before the government crackdown on private tutoring schools, was plagued with issues.
Through his research, Abelmann found there to be a wide range in prices tutoring companies charged, and how much teachers were paid.
"It's a differentiated market," he says. "Some companies that were sort of the high-end firms, like VIPKid, you could think of as the 'Rolls-Royce' of this [industry], and you could think of 51Talk as being the 'General Motors', lower cost option, where that clientele is just fundamentally happy to have a teacher and access to English."
Abelmann profiles four teachers In English Hustle to highlight those differences. Lexi Henegar is an American who also homeschools her seven children in Noblesville, in the US state of Indiana; Tim Gascoigne is a Canadian digital nomad who lives in Kuala Lumpur, Malaysia, and then moves to Bangkok, Thailand.
The other two teachers are from the Philippines: Ivan (full name Ronick Jhun Leones), a public school teacher by day who tutors in the evenings to earn extra money to look after his elderly parents; and Jean (Rojean Anne Maduay), a single mother who needs the tutoring income to support herself and her three daughters.
The documentary exposes the wage disparity between North American teachers and those from the Philippines, as Henegar and Gascoigne, who work for firms like VIPKid, earn significantly more than Leones and Maduay, who work at 51Talk. All four teachers are shown to be negatively impacted by the 2021 double reduction policy.
The documentary also highlights the demand on teachers to constantly appear animated throughout the 25-minute tutoring sessions. Their faces become tired as they smile all day on camera, even if their four year-old students cry through entire lessons.
"It was definitely a thing that they looked for; could you be animated and smile all the time, and that kind of stuff," says Gascoigne in a video interview from Bangkok. "But that wasn't me. So I did my own thing and I was fine."
As well as teaching children their ABCs, Gascoigne advised prospective teachers on how to land online teaching gigs through videos on his Online Teacher Dude YouTube channel. He would receive a referral fee for every teacher successfully hired by a company.
Gascoigne referred thousands of teachers to online tutoring schools from 2019 to 2020, and believes that about 350 of these were hired.
"VIPKid was just throwing money at anyone that would get teachers in. So it was easy. They were always hiring, always hiring. They were never on a hiring freeze."
English Hustle is Abelmann's second documentary. His first, released in 2019, was about American psychologist and educational reformer John Dewey's two-year trip in China from 1919-21, as seen through the eyes of American and Chinese students.
In addition to interviews with online tutors, English Hustle gives a short history of Sino-US relations. Following the then American president Richard Nixon's historic visit to China in 1972, scores of students wanted to learn English and demand has continued regardless of the geopolitical relations between the two countries since.
Abelmann also features two Chinese academics in his documentary who have enjoyed successful careers in the US.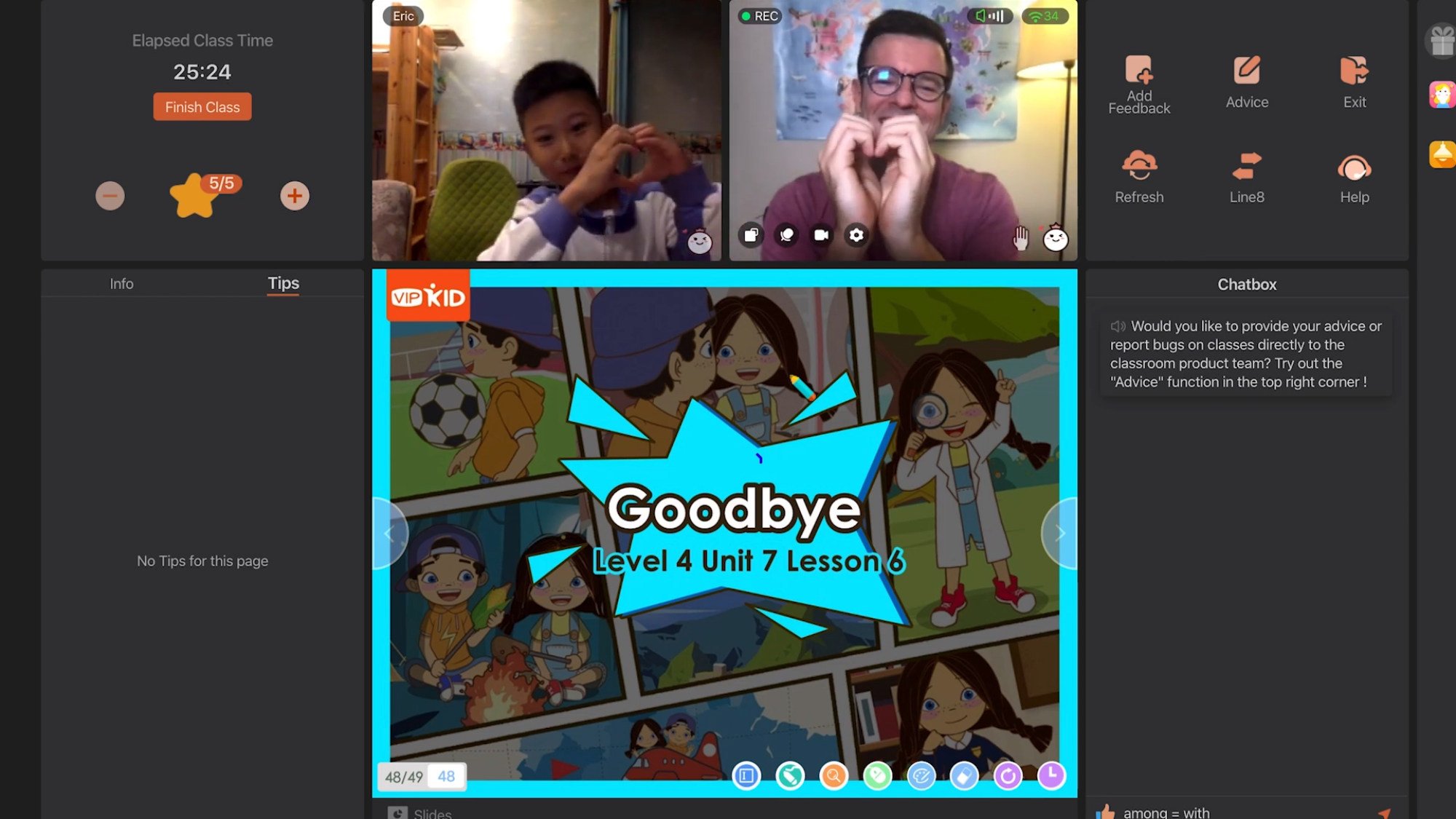 Decades ago Dali Yang, now a well-known political scientist at the University of Chicago, and Yong Zhao, a distinguished professor of education at the University of Kansas, learned English through listening to American radio broadcaster Voice of America, and watching movies.
Abelmann says that "the story resonates with them because the industry is a modern version of what they had to go through in a different time", and this made Yang and Zhao not only qualified to speak about why Chinese are so keen to learn English, but also gave his film a broader historical and political perspective.
Despite President Xi Jinping's proclamation in 2021 that China can rely on itself and does not need to depend on the West, Chinese parents still equate their children learning English with a better future.
According to Gascoigne, the crackdown on Chinese tutoring companies has caused many to shut down or downsize significantly, and now teachers are tutoring students directly, without being attached to a company or school.
More Articles from SCMP
Taiwan is trying to boost its defences. It's learning from Ukraine
ONE Championship: Martin Nguyen gets a second late change of opponent for Fight Night 7 in Bangkok
ONE Championship: John Lineker declares 'I'm the champion … Fabricio Andrade didn't beat me'
Paul Chan's budget is only the start of a long road to recovery for resilient Hong Kong
This article originally appeared on the South China Morning Post (www.scmp.com), the leading news media reporting on China and Asia.
Copyright (c) 2023. South China Morning Post Publishers Ltd. All rights reserved.
Would you like to receive notifications on latest updates?
No
Yes