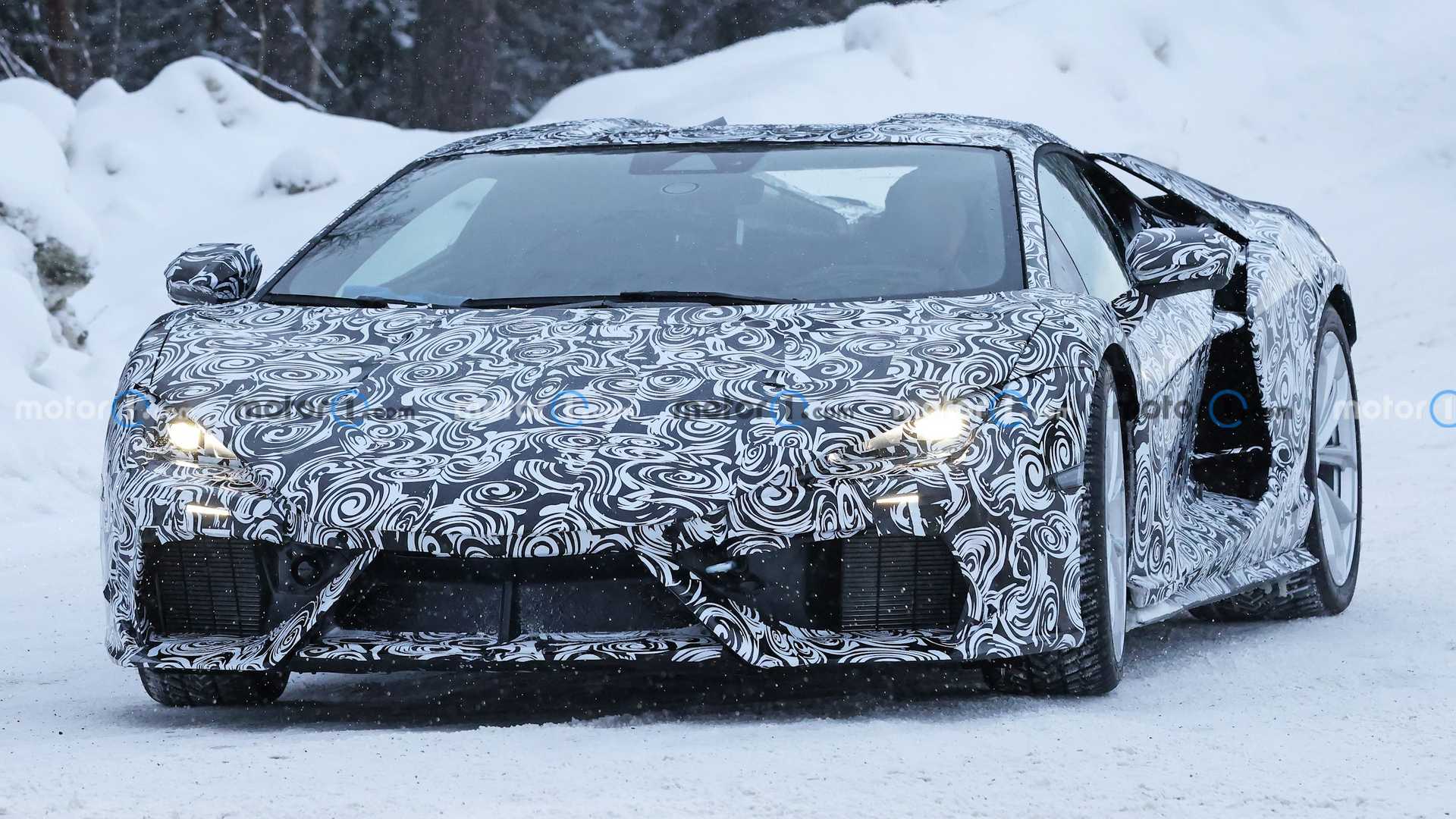 It's supposed to debut before the end of March.
Last month, Lamborghini said it would unveil the Aventador successor by the end of March. That deadline is fast approaching, and a new batch of spy photos shows the supercar is ready for its big reveal. The new pics show the sleek model wearing a tight camouflage wrap that's likely hiding the production body and lighting units.
This example caught out winter testing has less camouflage than previously spotted examples. At the front, the gaping outboard intakes are more exposed than before, highlighting their angular shape. The car also lost the camouflage covering the strakes in the gaping side intakes.
This batch of pics also captures a portion of the car's interior, exposing more of the cabin than ever. There's a free-standing digital display in front of the driver, which looks massive. A visible second infotainment screen is absent from the dash, which Lamborghini could have located lower on the instrument panel like Mercedes has done with recent models. On top of the dashboard is a V-shaped motif that could serve some HVAC functionality.
The supercar's rear looks wild, with the tight-fitting wrap showing off the aggressive diffuser and angular rear fenders, which we've seen in leaked patent images. The dual exhaust tips are mounted high, poking through the fascia and blending into the engine cover styling. The photos also clearly reveal the flying buttresses.
More Spy Shots:
Lamborghini Aventador Replacement Spotted In Italy By Motor1 Readers
Lamborghini Aventador Replacement Spied With Various Exhaust Designs
We know the Aventador successor will arrive with an all-new V12 supplying the power. However, Lamborghini will augment its output with a hybrid setup, which is part of the company's efforts to electrify its entire lineup by 2024. The automaker plans to launch its first fully electric vehicle in the second half of the decade.
Lamborghini will reveal the new model before the end of the first quarter. The automaker hasn't announced a debut date yet. However, the spy shots show a supercar that looks ready for production and ready to replace the discontinued Aventador, which wrapped up its run last September. The automaker needs a beastly top-tier model with a screaming V12, and thankfully we won't have to wait long to see it.  
Source: CarPix