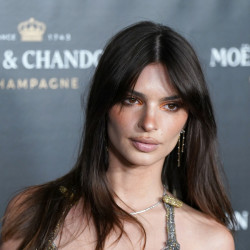 Emily Ratajkowski has set the record straight on how her surname is pronounced and it turns out most of the world has been saying it wrong.
The 'Gone Girl' actress and model, 31, who previously told Rolling Stone magazine about the "trick" behind the correct pronunciation, again told how it is correctly said in an interview shot during New York Fashion Week.
She told fashion writer Liana Satenstein, who was filming content for the Tory Burch brand's social media on Wednesday (15.02.23) when she was asked, "How do you say your second name?": "It's Rat-Ah-Kof-Ska."
Emily, who has said she identifies as Polish-Israeli, added the last syllable of the name Ratajkowski is pronounced 'ska' if it is in the feminine form, and 'ski' for men.
The clip was posted on Instagram, and TikTok featured a pinned comment from Emily that read: "Liana and I are both Eastern European so I was being playful! This is how you say it in Polish!"
Emily told Rolling Stone in 2013 about how her surname is correctly pronounced: "The J is silent. That's the trick. Occasionally people get it right on the first try, just through random luck."
The model this week went 'Instagram official' with her new boyfriend Eric André, 39, when he posted two nude photos of them on Valentine's Day, while the actor was also photographed arriving at the model's New York apartment on 14 February.
He captioned the images – which showed him naked lying on the sofa with a glass of wine while Emily's bare bum could be seen in the reflection from a mirror behind him as she took the snaps wearing only a bra – "Happy Valentine's Day", adding a string of heart emojis on either side of the words.
The romance appears to be Emily's most serious since she filed for divorce from her movie producer ex-husband Sebastian Bear-McClard, 42, in September 2022, with whom she has 20-month-old son Sylvester.