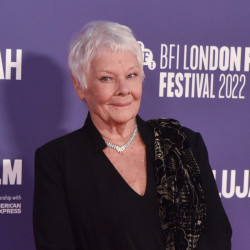 Dame Judi Dench now finds it "impossible" to learn her lines without help.
The 88-year-old actress was diagnosed with advanced macular degeneration in 2012 and she's on the hunt for a special "machine" that will help her to continue working despite her deteriorating eyesight.
Speaking on 'The Graham Norton Show', she said: "It has become impossible and because I have a photographic memory, I need to find a machine that not only teaches me my lines but also tells me where they appear on the page.
"I used to find it very easy to learn lines and remember them. I could do the whole of Twelfth Night right now."
Elsewhere on the show, the 'Allelujah' actress recalled appearing as Sally Bowles in the West End premiere of 'Cabaret' in the 1960s, and admitted she overheard some unfortunate critique.
She said: "My dressing room was below ground with a bit of a window. I could hear people walking by and one woman said, 'Judi Dench in a musical? No one will go to see that one, no one!' "
Judi previously explained she had found a friend repeating her scripts "over and over and over again" had become the only way she was able to learn her lines.
She said in 2021: "I have had to find another way of learning lines and things, which is having great friends of mine repeat them to me over and over and over again, and that's the way I can learn.
"So I have to learn through repetition, and I just hope that people won't notice too much if all the lines are completely hopeless!"
'The Graham Norton Show' airs on BBC One and iPlayer on Friday (17.02.23) at 10.40pm.