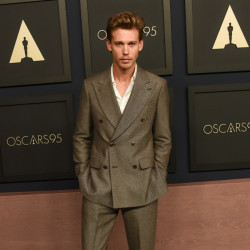 Austin Butler "never felt closer" to anyone quicker than he did to Elvis' late daughter Lisa Marie Presley.
The 31-year-old actor is nominated for a Best Actor Oscar for playing The King in director Baz Luhrmann's $120 million biopic of the 'Suspicious Minds' singer, and has now given a tearful interview in which he recalled his emotional first meeting with Lisa – who died aged 54 on 12 January after going into cardiac arrest at her home in Calabasas, California.
Austin was seen choking up in a preview of his interview with NBS News' TODAY, which will be shown on Sunday (19.02.23), and said in the clip about meeting Elvis' only child Lisa when the 'Elvis' film was screened at Graceland: "When I locked eyes on her, it's really a surreal thing.
"I'd been playing her dad for such a long time, and doing my best to make it as true for me as possible – the relationship, you know, of feeling the love for her through her father.
"Because the film resonated for her in that way, now… we're standing in front of each other and we're looking into each other's eyes and I felt so much love for her through him in that whole process.
"I've never felt closer to someone quicker than I felt with her."
He added: "She was just the most incredible woman I'd ever met, and just so incredibly honest and loving.
"Just to finally be able to give her a hug and then to spend all those moments with her, it's really, really sad right now."
Lisa's actress mum Priscilla, 77, was also at the screening, and Austin said in the interview preview, released on Thursday (16.02.23), about being anxious before it was shown: "I remember the moment they were first going to watch the film – I'd never been more nervous for anybody to see anything I'd ever done, because they'd never seen anything, they didn't even read the script at that point, and they were very nervous."
Austin added life is "very bittersweet right now" in the wake of Lisa Marie's death, and added about her not being alive to see the film being nominated for eight Oscars, including Best Picture: I just wish that she was here to celebrate with us."
He added he knew the Presley family's opinion about the film could have gone "either way".
But he recalled hearing about Priscilla sending Baz, 60, an email of congratulation after seeing it: "I just burst into tears, 'cause it was, I felt so much responsibility for them, for their family and for Elvis' legacy."