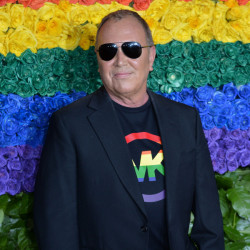 Michael Kors was inspired by feminists like Gloria Steinem in his latest collection.
The ex 'Project Runway' judge channelled "strong, powerful" feminist icons like the Ms magazine journalist, Jane Fonda, Aretha Franklin, Yoko Ono and Cicely Tyson – who along with changing political and social attitudes made a name for themselves style-wise in the 60s and 70s in his latest collection that was showcased at New York Fashion Week.
The 63-year-old fashion designer told reporters before his show: "The women who intrigued me then and still intrigue me today are the women who break the rules. They're strong, powerful, smart [but] they're happy to admit that they love fashion."
Michael – who was born as Karl Anderson Jr – also paid tribute to his mother Joan Hamburger who taught him to "never listen" when someone denies you what you want after she tried out for the NFL's Philadelphia Eagles.
She said: "They said that they were going to have an open call for football players. So my mother went to Philadelphia, and they refused to allow her to [try out]. I learned from her you never listen to the word 'no'. You just go forward."
Michael – who cast people like the 49-year-old supermodel Amber Valletta in the Bryant Park event – outlined his belief that dressing "different" body types and generations is a "part" of the gig of creating clothes.
He said: "To dress people of different ages or different sizes, it should never be a trend. It's part of our job."
The fashionista also loves to see a concept "come to life" in reality.
He said: "For me, the best thing is when I see that the ideas come to life on the street, in real life."