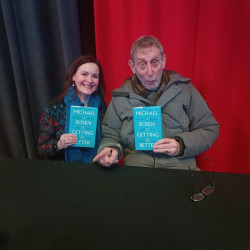 Long COVID Kids has announced former Children's Laureate Michael Rosen as the charity's first patron.
The organisation was founded in October 2020 by people living with Long COVID, advocating for those families, children and young people living with the illness and the debilitating effects.
Rosen – who was the Children's Laureate from 2007 to 2009 and has published more than 200 books, including 'Little Rabbit Foo Foo', 'The Hypnotiser' and 'Unexpected Twist' – is one of Britain's best loved writers and poets for children and adults and has joined Long COVID Kids as patron after facing death himself after contracting coronavirus. He survived after being hospitalized and placed in an induced coma for 40 days but he now suffers from Long COVID himself.
Announcing Michael's patronage, Long COVID Kids founder Sammie McFarland said: "We are more than delighted to welcome Michael as a champion of Long COVID Kids and as our inaugural patron. His resilience and fighting spirit during the past few years has made him a national treasure and serves as a wonderful inspiration to us all.
"The Long COVID Kids family look forward to working with him to raise awareness of Long COVID in the young, for many years to come."
Rosen, 76, added: "The pandemic came. The pandemic went. In fact, now, all over the country people are trying to handle the consequences.
"For some it's bereavement. For others, perhaps the least visible, are the children who've been damaged by COVID, who are struggling to find their way back to fitness, overcoming huge difficulties to do with exhaustion, weakness, loss of mobility, damage to organs while their parents and carers do all they can to help.
"Long COVID Kids is doing all that it can to bang the drum for these youngsters, supporting them and those who support the youngsters. I'm proud to be a patron of Long COVID Kids."
Currently supporting 11,000 families, the charity's vision is to achieve recognition, support and recovery for Long COVID and related illnesses in children and young people.
With a mission to increase understanding, aid early diagnosis and improve response and intervention alongside the aims of uncovering the many unknowns of the long-term impacts of COVID on children, Long COVID Kids aspires to achieve the fullest recovery possible for every child.
In his latest book, memoir 'Getting Better', Rosen shares his life story and the lessons he has learned along the way which have allowed him to find joy, as well as the traumas he has dealt with such as grieving the loss of his son Eddie who died in 1999 at the age of just 18 from meningococcal septicaemia.
Visit LongCOVIDkids.org/ for more information.