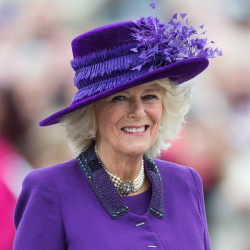 Queen Consort Camilla has tested positive for COVID-19.
The 75-year-old royal tested positive for the virus after previously postponing a planned visit to the West Midlands.
A Buckingham Palace spokesperson said in a statement: "After suffering the symptoms of a cold, Her Majesty The Queen Consort has tested positive for the COVID virus.
"With regret, she has therefore cancelled all her public engagements for this week and sends her sincere apologies to those who had been due to attend them."
The Queen Consort is fully vaccinated and is said to be in "good spirits".
Camilla tested positive for COVID last year, when she and King Charles contracted the illness during an outbreak in February 2022.
News of Camilla's positive test arrived shortly after Buckingham Palace announced that she had postponed a visit Elmhurst Ballet School in Birmingham on Tuesday (14.02.23) because of a "seasonal illness".
Buckingham Palace is hoping that it can rearrange the postponed events.
However, a source has told the BBC that King Charles will continue with his planned engagements for the week.
Charles and Camilla previously encouraged the public to get a COVID-19 vaccine.
The royal duo explained that the vaccination can help to reduce the risk of serious illness.
They said in a statement in 2021: "We can only urge you to look at the evidence in our intensive care wards. People who are unvaccinated are at least ten times more likely to be hospitalised or die than those who have had two vaccine doses."
Charles and Camilla urged the public to listen to the advice of health experts.
They added: "That is why we urge everyone to get vaccinated and to take up the booster, as we have done ourselves."