Salt is the central theme of this city. Its name comes from the high-salinity Great Salt Lake nearby. It is also the spiritual home of the Mormons, a Christian denomination whose idea of being "salt of the earth" has deeply touched lives. And just like salt adds flavor to food, the city makes life more interesting thanks to its variety of attractions. For a fair share of culture and learning, the highly-rated Natural History Museum of Utah is your best bet. Liberty Park and City Creek Center, on the other hand, are for outdoorsy types and shopaholics respectively.
In Salt Lake City you will find some beautiful attractions that you just cannot miss! Places like Temple Square, Utah State Capitol, and Liberty Park and many more. Continue reading to know more.
1. Temple Square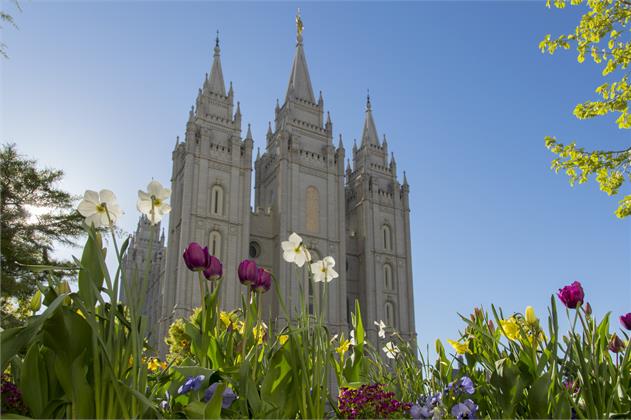 acre complex in the center of Salt Lake City is Temple Square with The Church of Jesus Christ of Latter-day Saints. Originally the area was small where the temple stood but now it is a larger area with several historic buildings which is called Temple Square. Each year 3 to 5 million tourists visit the square for historical buildings.
2. Utah State Capitol
There is more than meets the eye at this capitol building. Though it features Neoclassical Revival architecture typical of many top American government buildings, its lesser obvious elements tell a unique story. Though it may look like an ancient Roman building, it boasts of state-of-the-art earthquake protection technology. Aside from this, the murals found in the rotunda beneath the 165-foot-high dome have an interesting origin. The paintings which depict the history of Utah were made by artists employed by the Works Progress Administration. This agency was President Franklin Roosevelt's unique brainchild to help alleviate the massive unemployment that characterized the Great Depression. The unique history of the capitol doesn't end there. The money used to finance its construction came from inheritance taxes paid by the estate of Union Pacific Railroad president Edward Harriman.
3. Liberty Park
Spread in 80 acres, Liberty Park is the second-largest public park in Salt Lake City. Park is popular for picnics, children's play area, large playgrounds, a swimming pool, basketball court, volleyball court and a jogging trail. Visitors love sitting on benches near the ponds with two islands watching birds.
4. Salt Lake City Public Library
Built in 1904, the Salt Lake City Public Library is housed in an architecturally beautiful building in Salt Lake City in Utah. The five story triangular modern building also has lot of open spaces outside including an amphitheater. The top of the terrace has well laid out gardens.
5. Beehive House
Brigham Young was an extremely hardworking carpenter and devoted husband. This was mostly his vocation until his election as the Latter-day Saints' second president. For this role, he got the privilege to live in the Beehive House. Constructed in the 1850s, the furnishings inside are true to the period during which the residence was built. Young being a lover of New England architecture, he had a widow's walk built for surveying the surrounding desert. Aside from being his home, this building also served an official function. It is here where he entertained prominent guests like Mark Twain, President Ulysses S. Grant and Ralph Waldo Emerson.
6. LDS Conference Center
Opened in 2000, this impressive conference center serves as the premier meeting place for The Church of Jesus Christ of Latter-day Saints (LDS Church). Housing one of the largest theater-style auditoriums to ever have been built, it also regularly features performances by the iconic Tabernacle Choir at Temple Square.
7. City Creek Center
You've all heard of an open-air shopping center. But have you heard of one with a tractable glass roof? This is only one of the many amazing architectural elements that you can find in this part-residential, part-commercial piece of urban development. The City Creek Center also has a unique way of connecting housing units with retail spaces. A covered pedestrian sky bridge and foliage-lined walkways are only some of the many interconnecting structures you can explore while you're here. There's even a creek and fish pond in this quirky yet beautiful place.
8. Salt Lake Temple
Joseph Smith founded the Church of Jesus Christ of Latter-day Saints back in 1830 at Fayette, New York. About 20 years later, his followers in Salt Lake City built this massive place of worship. At a whopping 253,015 square feet, this church is arguably among the world's biggest in terms of area. This building is part of a larger complex called Temple Square. This group of buildings features a collection of sites that celebrate the history and heritage of this austere, mission-driven and conservative Christian sect.
9. Natural History Museum Of Utah
Natural History Museum of Utah is located at the heart of Salt Lake City. It is a museum that features an exquisite architecture as well as interesting and informative exhibits about the history of Utah. The exhibits also show the paleontology, discoveries as well as preserved artifacts of Utah's prehistoric people
10. Salt Lake Tabernacle
Salt Lake Tabernacle, also known as Mormon tabernacle, is located in Salt Lake City. It was built for the purpose of accommodating or hosting various events such as general conferences and meetings of The Church of Jesus Christ of Latter-day Saints. Although the meetings were now conducted at their new headquarters, Salt Lake Tabernacle is still widely used as of the present.
11. Red Butte Garden And Arboretum
Red Butte Garden and Arboretum consists of a botanical garden,arboretum, and amphitheatre operated that are all operated by the University of Utah. It spans a hundred acres of garden filled with plants and flowers and hiking trails of vegetation. The garden is truly popular as it has 200,000 visitors each year.
12. Family History Library
Family History Library located in Salt Lake City is operated by The Church of Jesus Christ of Latter-day Saints and specializes in genealogy research. It prides itself as the world's largest family tree library where visitors could check the lineage of their family names.
13. Bryce Canyon National Park
Bryce National park is located in southwestern Utah near the city of Bryce. The main feature is the massive rock formations formed due to erosion. Formations can be seen from naturally formed amphitheaters. The total area of the Bryce National Park is 56 square miles and is a national monument.
14. Hogle Zoo
Opened in 1931, Hogle Zoo in Salt Lake, Utah is spread over 42 acres. More than 800 animals are on display in the zoo. Being at the mouth of Emigration Canyon, the ecosystem is rich with diverse flora and fauna naturally. The Asian lions, African Elephants and other animals like Rhinos have separate exhibit spaces.
15. Zion National Park
Located in southwestern Utah, Zion National Park is an American National Park spread in 229 square miles. Park is known for its hills, valleys, plateaus and canyons. A distinguishing feature of the park is the Zion Canyon spread 15 miles and 2640 feet deep. Park boasts its diversity of animals and plant as it encompasses several geographical regions. Rock climbing, hiking, swimming, cliff jumping and several other extreme adventure sports are common here.
Visit Salt Lake City to book a budget friendly trip!