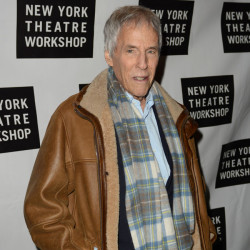 Burt Bacharach has died at the age of 94.
The legendary composer – who worked on the likes of 'Walk On By', 'I Say a Little Prayer', 'Do You Know the Way to San Jose' and 'Alfie's Theme' – passed away from natural causes at his Los Angeles home on Wednesday (08.02.23), his publicist has confirmed.
Burt composed hundreds of songs in the 1950s to 1980s, many in collaboration with lyricist Hal David. He worked on many movie scores, including 'What's New, Pussycat?', Alfie', and James Bond parody 'Casino Royale'.
He was an eight-time Grammy winner and won two Oscars in 1970, for the 'Butch Cassidy and the Sundance Kid' score and for the song 'Raindrops Keep Fallin' on My Head'. He then took home his third Oscar in 1982, with then-wife Carole Bayer Sager, in recognition of their track 'Arthur's Theme (Best That You Can Do)'
He was born in Missouri but moved to New York City at a young age and was encouraged by his pianist mother to pursue music, eventually securing a place at the music conservatory at McGill University in Montreal, where he wrote his first song.
Burt was drafted into the army in the 1940s and was on active duty during the Korean War, but when officers discovered his gifts, he was sent to Germany, where he wrote orchestrations for a local recreation centre.
After his discharge, he returned to New York and attempted to start his music career, eventually touring with Vic Damone, the Ames Brothers, and Polly Stewart, who became his first wife.
His big break came after a friend was unable to make a Marlene Dietrich show in Las Vegas and asked him to step in, and Burt then travelled the world with her for over a decade.
At the same time, he met songwriting partner Hal, and they had their first major hit in 1958 when Perry Como sang 'Magic Moments'.
In 1962, he and Hal began working with Dionne Warwick, who had dozens of hits with the pair behind her.
But Burt and his friend's partnership ended badly with the failure of 1973 musical remake 'Lost Horizon', leading the musician into depression and a refusal to work, which ultimately led to him being sued by both Hal and Dionne.
The songwriters eventually reconciled, and Burt paid a heartfelt tribute to Hal when he passed away in 2012, remembering him for writing lyrics "like a miniature movie".
Burt himself refused to retire.
He said in 2018: "Music softens the heart, makes you feel something if it's good, brings in emotion that you might not have felt before. It's a very powerful thing if you're able to do to it, if you have it in your heart to do something like that."
While he was best known as a pop composer, Burt's songs were recorded by artists of many genres, including country star Marty Robbins, soul singers Aretha Franklin and Luther Vandross and he even teamed up with rapper Dr. Dre.
Burt is survived by his fourth wife, Jane Hansen – who he married in 1993 – and his children Oliver, Raleigh, and Cristopher. His daughter with second wife Angie Dickinson, Nikki Bacharach, took her own life in 2007 aged 40.