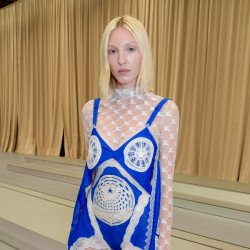 Ella Richards says her family loves to share clothes.
The granddaughter of Rolling Stones drummer Keith Richard and his ex the late 60s siren Anita Pallenberg admitted the former couple – who had Ella's father Marlon, 53, Dandelion Angela, 50, and Tara, who died aged ten weeks – would don each other's
The 26-year-old model told Tatler magazine: "Most of my family are slightly mad and crazy or weird. They borrow each other's clothes. My grandfather used to wear my grandmother's clothes, and she used to wear his.
Ella is too scared to wear the "fragile" garments but is a fan of the some of the items scored by mother Lucie de la Falaise days as a Yves Saint Laurent muse.
She said: "I don't wear a lot of them because they are so fragile. There are a few pieces I love, like Ossie Clark dresses. [I love] vintage Yves Saint Laurent. My mum has a lot of it from when she used to work in Paris, [mainly pieces from the] 1980s, which isn't quite my thing.
The Burberry model – who is a fashionista herself" – was "so upset" to injure her ankle therefore having to sport flats at pal ex Vogue editor Tish Weinstock's recent wedding to stylist Tom Guinness at Belvoir Castle.
She said: "I fractured my foot the night before running down the stairs at home and I had to go to A E. I made it [to the party], but I was hobbling and my foot was black – and I couldn't wear heels, so I was really upset."