Sweden's unique blend of snow and ice is likely to provide a hard fought and fast contest among the sharp end of the Rally1 field.
Last year's winner Kalle Rovanpera is expected to be among the favourites following a strong start to his title defence in Monte Carlo after netting second behind rally winner and Toyota team-mate Sebastien Ogier.
Part-time challenger Ogier, will be absent in Sweden as Takamoto Katsuta takes over the third points scoring GR Yaris for the first time in his WRC career.
Toyota's challenge will be bolstered by Elfyn Evans, a previous Rally Sweden winner in 2020. The Welshman challenged Rovanpera for victory on the snow last year before a crash on Sunday ended his rally prematurely.
Hyundai will bring a changed driver line-up to Sweden as former M-Sport pilot Craig Breen climbs aboard the third i20 N for the first time this year. The Irishman has shown speed on the snow, having finished second at the event in 2018, when driving for Citroen.
After finishing third in Monte Carlo, Thierry Neuville, and new Hyundai signing Esapekka Lappi both finished on the podium last year, and are likely to be among the challengers.
M-Sport Ford will field two Pumas for 2019 Sweden winner Ott Tanak and Pierre-Louis Loubet. Tanak kicked off his return to the Ford brand by finishing fifth in Monte Carlo as he continued to acclimatise to the Puma.
However, in the lead up to Rally Sweden, the Estonia won the Otepaa Winter Rally, held on snow and ice in Estonia last weekend in preparation for Sweden.
This weekend will mark Loubet's first Rally Sweden in top level machinery.
The Rally1 field will be joined by Italian privateer Lorenzo Bertelli, who will drive a rented GR Yaris, in what will be his first event since Rally New Zealand in September last year.
Ott Tänak, Martin Järveoja, Hyundai World Rally Team Hyundai i20 N Rally1
Photo by: Romain Thuillier / Hyundai Motorsport
What is Rally Sweden?
Rally Sweden is the only dedicated snow round of the WRC season, which sees competitors tackle snow and ice covered forrest roads lined by snow banks.
The rally is often one of the fastest on the calendar despite the tricky conditions. High speeds are reached thanks to the use of specially designed studded tyres.
The event is one of the oldest on the calendar dating back to 1950, and featured in the inaugural World Rally Championship season in 1973.
Traditionally the rally has been located around the city of Karlstad west of of the capital Stockholm. However, last year the rally relocated 800 kilometres north in the city of Umea to ensure competitors would face snow conditions.
Esapekka Lappi, Janne Ferm, Toyota Gazoo Racing WRT Toyota GR Yaris Rally1
Photo by: Toyota Racing
Rally Sweden winners
The inaugural Rally Sweden in 1950 was won by local Per-Fredrik Cederbaum, driving a BMW.
Since then native Stig Blomqvist has emerged as the undisputed Rally Sweden master, clocking up seven wins (1971-1973, 1977, 1979, 1982 and 1984). The victories arrived driving for Saab and Audi, with the former brand the most successful at the rally, chalking up 10 wins.
Two-time world champion Marcus Gronholm (2000, 2002, 2003, 2006, 2007) and 1979 champion Bjorn Waldegard (1968-1970,1975 1978) boast the next best record with five wins apiece.
Of the current field, Hyundai's Thierry Neuville (2018), M-Sport's Ford's Ott Tanak (2019) and Toyota duo Elfyn Evans (2020) and world champion Kalle Rovanpera (2022) have all stood on the top step of the podium.
Gus Greensmith, Jonas Andersson, M-Sport Ford World Rally Team Ford Puma Rally1
Photo by: M-Sport
Rally Sweden itinerary
This year's edition will be contested over 18 stages, comprising 301.18km across four days of competitive action.
Thursday 9 February
Shakedown begins 8:01am GMT  (9:01am local)
Stage 1 Umea Sprint begins 7:05pm GMT (6:05pm local)
Friday 10 February (7 stages – 111.92km)
Stage 2 – Stage 8 begins 7:30a mGMT (8:30am local)
Saturday 11 February (9 stages – 126.22km)
Stage 9 – Stage 15 begins 7:05am GMT (8:05am local)
Sunday 12 February (6 stages – 63.04km)
Stage 16 – Stage 18 begins 11:18am GMT (12:18pm local)
Thierry Neuville, Martijn Wydaeghe, Hyundai World Rally Team Hyundai i20 N Rally1
Photo by: Fabien Dufour / Hyundai Motorsport
Entry List Rally1 (Road Order)
The entry list features 52 crews headlined by nine Rally1 car entries:
#69 Kalle Rovanpera/Jonne Halttunen – Toyota Gazoo Racing – GR Yaris Rally1
#11 Thierry Neuville/Martijn Wydaeghe – Hyundai Motorsport – i20 N Rally1
#33 Elfyn Evans/Scott Martin – Toyota Gazoo Racing – GR Yaris Rally1
#8 Ott Tanak/Martin Jarveoja – M-Sport Ford World Rally Team – Puma Rally1
#18 Takamoto Katsuta/Aaron Johnston – Toyota Gazoo Racing – GR Yaris Rally1
#4 Esapekka Lappi/Janne Ferm – Hyundai Motorsport – i20 N Rally1
#7 Pierre-Louis Loubet/Nicolas Gilsoul – M-Sport Ford World Rally Team – Puma Rally1
#42 Craig Breen/James Fulton – Hyundai Motorsport – i20 N Rally1
#37 Lorenzo Bertelli/ Simone Scattolin – Toyota Gazoo Racing – GR Yaris Rally1
The event will also mark the first points scoring round of the season for local Oliver Solberg, competing in a healthy 25 car WRC2 field.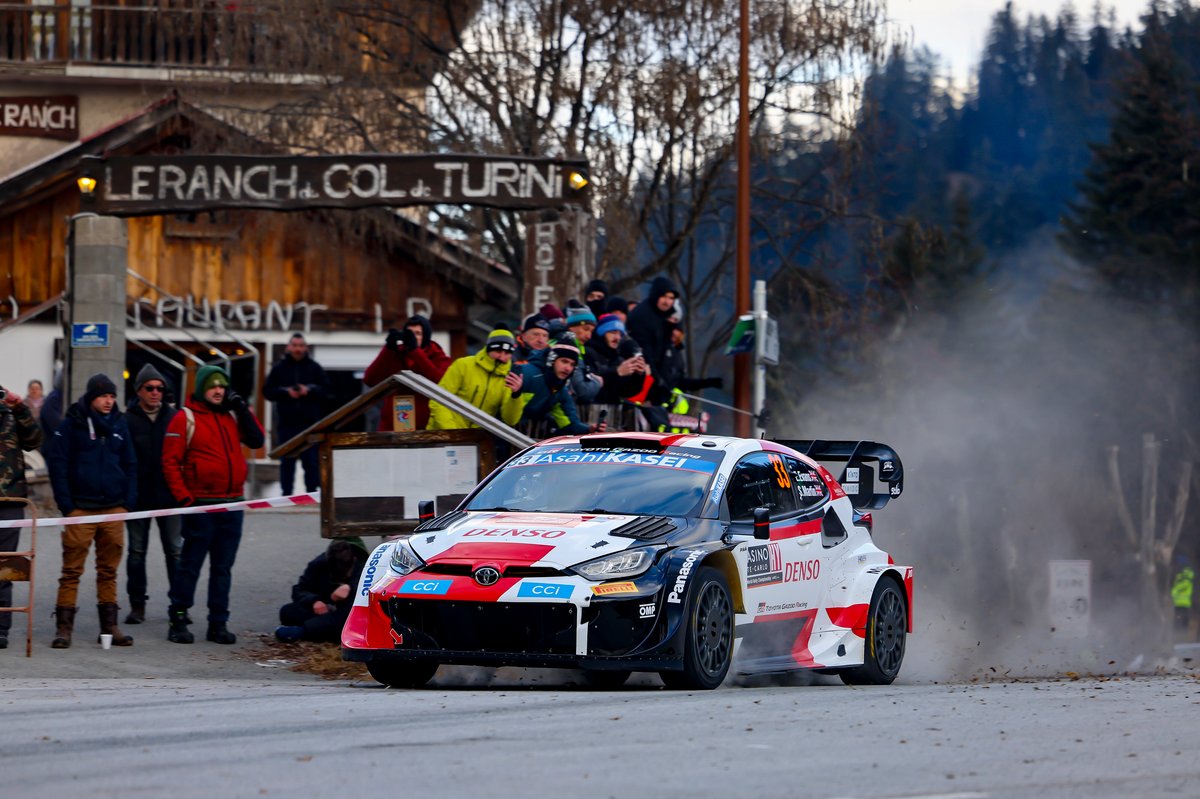 Elfyn Evans, Scott Martin, Toyota Gazoo Racing WRT Toyota GR Yaris Rally1
Photo by: Toyota Racing
How have the Rally1 cars changed for 2023
WRC teams have spent the off season refining Rally1 machines ahead of a second season under the new hybrid rules.
Reigning champions Toyota have not stood still. The pronounced air boxes that adorned the flanks of the car to cool the hybrid unit have been replaced with a much smoother more aerodynamic design, as it was found the 2022 design overestimated the amount of cooling required for the hybrid unit This has resulted in a re-design of the rear fenders and arches. The rear wing has also been tweaked to compensate for the new aero package.
In addition to the the aero changes, Toyota has elected to upgrade its 1.6 litre engine to improve the delivery of power and its torque.
Hyundai has also revealed noticeable changes to its aero on its i20 N. The 2023 car features updated bodywork to the front and rear of the car. The bonnet has been flattened and extended while the front arches have also been modified. The team has also opted for a heavily revised rear wing and wing mirrors.
The new look extended front end has turned the nose of the car into effectively an extra splitter. At the rear, a new rear wing has been designed with last year's central wing and end plate option transformed into one continuous wing covering the maximum width of the car.
Meanwhile, M-Sport has unveiled a bold new look for its Puma Rally1 with an electric blue and pink livery, replacing its popular purple colours from last season. While the car looks similar to its 2022 model, the team plans to continue its development during the season.
Kalle Rovanperä, Jonne Halttunen, Toyota Gazoo Racing WRT Toyota GR Yaris Rally1
Photo by: Toyota Racing
How does the Rally1 hybrid system work?
Drivers will have the use of hybrid power during every stage, with power boosts activated by the throttle pedal, while further boosts will be unlocked through energy regeneration under braking during stages.
Pilots will be required to regenerate 30 kilojoules of energy before another boost is granted that will be used the next time they touch the throttle pedal.
The extra 130 horsepower is delivered through the use of three bespoke homologated engine maps selected by teams, depending on the type of stage and conditions.
Determined by the FIA and event organisers, drivers will be required to navigate parts of road sections and around event service parks in full electric mode.
In full electric mode the car has a range of 20km, while its 3.9KWH battery, operating up to 750 volts, can be plugged in and recharged in the service park within 30 minutes. The hybrid unit can withstand an impact of 70G.
The cars are powered by a 100% sustainable fuel.
Sébastien Ogier, Vincent Landais, Toyota Gazoo Racing WRT Toyota GR Yaris Rally1
Photo by: Toyota Racing
Testing reduction and other rule changes
The sporting regulations have undergone a refresh with arguably the biggest change being a reduction in testing.
WRC teams will only be permitted 21 test days (seven per driver) instead of the allotted 28 as per last season in bid to reduced costs and improve sustainability. Last year each manufacturer driver would complete a pre-event test day prior to all European rounds.
The move has prompted mixed views among teams and drivers.
Also new for this year, Rally1 drivers will be restricted to using a total of 28 tyres during an event. They will also be no longer handed an extra four tyres for use in shakedown.
In Gravel rallies only, organisers have removed the 15 minutes service normally held before the start of each day.
"By removing the morning service on gravel events and trimming the flexi-service window for P1 cars, we can reduce the working day by up to three hours, which will benefit team members but also the many volunteer officials, including scrutineers and service park marshals," explained FIA rally director Andrew Wheatley.
Pierre-Louis Loubet, Nicolas Gilsoul, M-Sport Ford World Rally Team Ford Puma Rally1
Photo by: Red Bull Content Pool
How to follow WRC in 2023
Autosport will be on the ground in Monte Carlo providing reports, interviews and reaction.
Motorsport.tv will also have regular highlights both during and after each WRC round in 2023.
Pay television
WRC Plus All Live will provide live coverage from every stage.
BT Sport will provide daily highlights shows from every event this season.