Preparations for the 2023 MotoGP season will kick up a gear this month with the first pre-season test of the year taking place in Malaysia.
The 22-rider grid has had just one day of 2023 running up to this point, coming in the post-Valencia Grand Prix test last November, with the 10-12 February Sepang test set to lay the first battlelines of the new year.
While the most radical change for 2023 comes in the form of sprint races, that doesn't stop the new season from being vitally important for some.
Autosport casts its eye on the grid and picks out the five contenders we believe need a standout 2023.
5. Franco Morbidelli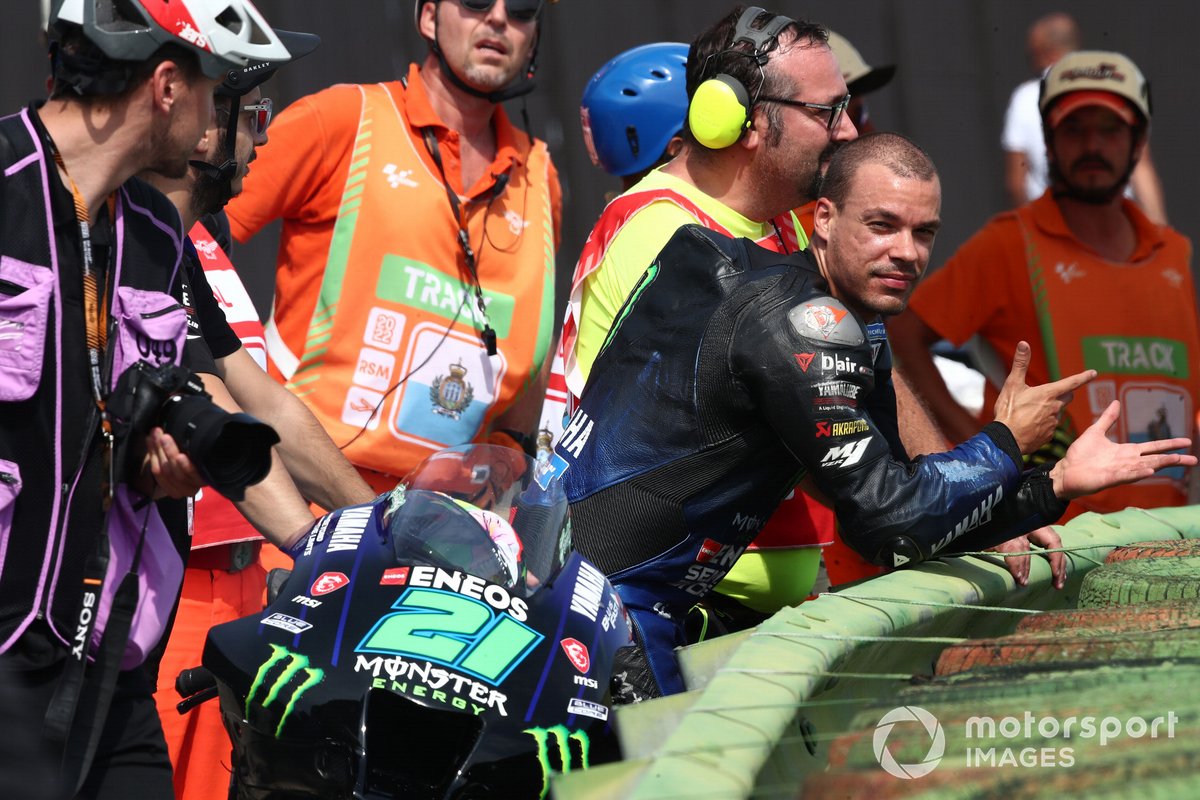 Morbidelli has endured two tough years since finishing runner-up to world champion Joan Mir in 2020
Photo by: Gold and Goose / Motorsport Images
The Yamaha rider has endured an unfortunate fall from grace since finishing runner-up in the 2020 championship when he was with Petronas SRT on a 2019-spec YZR-M1.
Yamaha's decision not to upgrade his machinery for 2021 meant he scored just one podium in the first half of the season, before a knee injury forced him into a five-round layoff from the Dutch GP.
When he returned, he was moved from SRT to the factory Yamaha squad to replace the ousted Maverick Vinales, with the transition proving immensely difficult as Morbidelli tried to adapt to a new bike while still in recovery.
For 2022, he was back to full fitness but continued to struggle on the Yamaha. That wasn't a problem unique to him, as only team-mate Fabio Quartararo of Yamaha's five representatives across the season got to the podium.
Still, Morbidelli's inability to get much from the bike in qualifying trim made his Sundays difficult. The Italian scored just 42 points across 20 races, with a points average of just 2.1 per grand prix. That was a shade of the 11.3 he managed per race in 2020, albeit across a shortened 14-round season.
Morbidelli's saving grace for 2023 was a two-year contract with Yamaha and suggestions VR46 could become the Japanese marque's satellite partner from 2024 – a deal that would be harder to pull off if one of Valentino Rossi's proteges was kicked to the kerb before his contract ended.
A late-season resurgence in form for Morbidelli offered hope of his misery coming to an end, but he must come out of the gates strongly in 2023 and maintain a consistent campaign as we saw in 2020 if he is to factory seriously in Yamaha's ambitions for the future.
4. Takaaki Nakagami
Nakagami slumped to his worst season in MotoGP in 2022 and is lucky to still be on the grid
Photo by: Gold and Goose / Motorsport Images
Few MotoGP riders would have remained in a factory-supported seat for a sixth season registering the results Takaaki Nakagami has since he made his debut in 2018. The Japanese rider's career in grand prix racing can be categorised as being far too underwhelming for someone who has demonstrable speed on two wheels. And let's not shy away from the fact that Nakagami is fortunate to still be a full-time MotoGP rider in 2023.
At one stage, Nakagami was likely to be moved to the role of test rider for 2023 as Moto2 championship runner-up Ai Ogura looked set to take his place at LCR Honda – only to turn HRC down and focus on developing himself in another season in the intermediate class.
Until now, Nakagami has been protected by the fact the second LCR spot – backed by Idemitsu – has been specifically set up for a Japanese rider, and the candidates to take his place have been thin on the ground. Ogura has changed this.
Nakagami scored just 48 points in 2022 – albeit missing three races with injury – and ended up as the lowest-placed full-time HRC rider in the standings.
Even his LCR team boss Lucio Cecchinello has questioned his ability to manage pressure, with Nakagami yet to breach the podium in MotoGP. He memorably threw away his best shot at one in 2020 in Aragon, when he crashed after just five corners having qualified on pole.
Nakagami's cause hasn't been helped over the last two seasons by a bike that has been difficult to manage, but his experience should be carrying him to better results than a season-high seventh in 2022.
With Ogura firmly waiting in the wings for his step up to MotoGP, Nakagami must prove himself indispensable to Honda as a race rider in 2023 if he is to have any hope of returning to the grid in 2024.
3. Alex Marquez
Alex Marquez has a fresh start away from both Honda and his older brother Marc in 2023
Photo by: Gresini Racing
Alex Marquez was only marginally better than LCR team-mate Takaaki Nakagami across 2022, scoring 50 points across 20 rounds in a season in which the Spaniard grew frustrated with Honda.
Admitting he didn't agree with HRC's decision to move him to LCR for 2021, before he'd even turned a wheel of his rookie season with the factory squad in 2020, rather set the tone for a disappointing two-year spell that led him to seek pastures new with Gresini Ducati.
The younger Marquez brother's talent is regularly disputed by critics who cast him off as nothing more than nepotism at its finest – a rider whose career has been carried by his surname.
While that has some semblance of truth to it – Alex Marquez's early Moto2 results would likely have stopped him from getting a third season had it not been for his name, while his Honda MotoGP move is thought to have been instigated by his eight-time world champion brother Marc when Jorge Lorenzo announced his retirement at the end of 2020 – the assessment is an unfair one.
Alex Marquez is a world champion at Moto3 level, beating Jack Miller, and also reached the summit of Moto2 in 2019. In 2020 he was the only Honda rider to score a MotoGP podium in HRC's first winless season since it returned to the grid full-time in 1982.
Feeling underutilised by Honda, Marquez switches to Ducati for 2023 with Gresini. Though he is not on a factory contract or a works bike, Marquez will ride the fully developed 2022 Desmosedici Francesco Bagnaia took to the championship. Already feeling "at home" on the Ducati in his first test on the bike in Valencia last November, Marquez is on a bike and in a surrounding that has proven to allow a rider to flourish. Enea Bastianini won four times on a 2021-spec Ducati last year with Gresini, earning him a shot at fighting for the championship and an eventual step up to the Ducati factory team.
So, while Alex Marquez has everything at his disposal to truly show what he is capable of in 2023 now he has broken free from the shadow he lived under at Honda, he must demonstrate his worth this year to truly vindicate himself in MotoGP.
2. Yamaha
Yamaha would have suffered a disastrous 2022 without leading man Quartararo
Photo by: Yamaha MotoGP
Yamaha ended up second in the constructors' standings and was runner-up in the riders' championship with Fabio Quartararo in 2022. At first glance, last year wasn't terrible. But, when you consider 248 of its 256 manufacturers' points were scored by Quartararo and it was 192 adrift of Ducati, and that it only won three times – all from Quartararo – while Ducati won 12, you begin to see that Yamaha was exclusively propped up by its top talent.
A lack of top speed was to blame for much of Yamaha's woes in 2022, with that deficit stopping its riders from being able to do much actual racing.
But even in qualifying trim, 2021 champion Quartararo was not able to match his past form, scoring just one pole position all season. While he clung on right to the conclusion of the campaign in Valencia, that Quartararo was even still in the hunt at that point is more testament to his rival Bagnaia's myriad mistakes than anything else.
A new engine brought to a test at Misano last September was met with praise but its follow-up in Valencia was not. And now time is running out for Yamaha to make the gains it needs ahead of the new season.
Its underwhelming start to 2022 led to a protracted negotiation period with the Quartararo camp to get a deal over the line. In truth, the Frenchman was unlikely to go anywhere else, but a two-year agreement was eventually reached.
Quartararo was Yamaha's only podium finisher last year and will once again be relied upon in its bid to win the constructors' championship given the loss of its satellite entries for 2023 and the uncertainty over Morbidelli's pace.
PLUS: Why Yamaha has just six months to safeguard its MotoGP champion's future
The rider market isn't expected to be too hot for 2024, but wheels will start turning on 2025 deals very early and Quartararo will be a key component in all of that.
Thus, Yamaha has to build the bike Quartararo needs to consistently run at the front in 2023. One more year of struggle, like in 2022, could ultimately cost Yamaha the best rider it has had since Jorge Lorenzo.
1. Honda
With some of the best talent taken from the defunct Suzuki squad, what can Honda produce in 2023?
Photo by: Gold and Goose / Motorsport Images
It is unfathomable and frankly unacceptable that a manufacturer with the stature and pedigree of Honda has registered two winless campaigns out of the last three MotoGP seasons.
While the injury woes for Marc Marquez beginning in 2020 has certainly hindered Honda's progress, it also shone a bright spotlight on the deficiencies of the RC123V which prompted a total bike rethink for 2022 – one that, ultimately, didn't work.
Honda has moved to shake things up for 2023 by bringing in former Suzuki technical chief Ken Kawauchi, while peppering its line-up with 2020 world champion Joan Mir at the factory squad and five-time race winner Alex Rins at LCR.
PLUS: The other Suzuki signing that could transform Honda's MotoGP form
Marquez should be fully fit for 2023, having taken six races off midway through last season to have a fourth major operation on his right arm to correct the positioning of the bone, and showed steep improvement in the final part of the campaign. The eight-time world champion has stood tall over Honda as its true leader, uttering numerous battle cries that HRC, with a change of approach, is capable of getting back to the front.
But, he has also suggested that, should things not improve then his future at Honda could become somewhat unclear.
"Now in 2022 I only want to stay with Honda, and staying with Honda is my target," Marquez told Autosport last winter about his future. "But, my biggest target is to win championships. So, this is what I will look at for the future. So, for the future we will see. You never know. Honda is Honda, it's my dream to stay in Honda. But my biggest dream is to win championships."
PLUS: Is MotoGP's comeback king ready to reclaim his throne?
The Honda/Marquez relationship has been immensely prosperous, delivering six world titles in seven years in the premier class. And Marquez seems genuinely unbothered by calls for him to cement his legacy by repeating that success at another manufacturer, just as Valentino Rossi did with Honda and Yamaha. After all, the Honda has rarely been the best bike.
And thus, Honda must get its 2023 bike right for Marquez if it is to have any hope of ending this difficult period. But it will also be a key factor in keeping hold of the grid's undisputed best rider when his contract runs out at the end of 2024.
Honda's 2023 could be telling for its long-term future with Marc Marquez
Photo by: Gold and Goose / Motorsport Images