City on the Mississippi River, New Orleans is known for its everlasting music scene and European-style architecture. The musical notes of jazz, blues, R&B, and Zydeco tunes fill the air with magical fragrances. Not to mention the food scene, unique cuisines, and cocktail culture led this city to become one of the most sought places for foodies. The city boasts some amazing museums and tourist attractions including The National WWII Museum, New Orleans Museum of Art, and a gigantic 1,300-acre City Park. ,
In New Orleans you will find some beautiful attractions that you just cannot miss! Places like New Orleans Jazz & Heritage Festival, The Chloe, and New Orleans Kayak Swamp Tours and many more. Continue reading to know more.
1. New Orleans Jazz & Heritage Festival
Featuring the best that New Orleans has to offer including everything from music and food to the city's eclectic culture, this Jazz Fest attracts thousands of music lovers from across the globe. This musical forum features a dizzying array of styles including everything from blues, gospel, funk, rock and latin to hip-hop, brass and soul.
2. The Chloe
Located in the vibrant uptown Louisanna neighbourhood, the Chloe offers its visitors the experience of staying at a former Victorian-era family mansion which combines the beauty of carefully curated artworks with modern comforts. Their 14 guest rooms have been decorated to the minutest possible details, including hand-stitched cocktail napkins.
3. New Orleans Kayak Swamp Tours
Coastal Louisiana offers several unexplored hidden delights, which includes the rich biodiversity and beauty to be found in its cypress-filled bayous. New Orleans Kayak Tours takes you across the rich natural world of this swampland and exposes you to the unique flora and fauna found here.
4. Saint Louis Cemetery
The city's French and Spanish historical ties mean that many of New Orleans' residents are Catholic. Hence, this cemetery features unique aboveground tombs that make it appear like a small whitewashed city. These graves hold the remains of famous city figures like Voodoo Queen Marie Laveau and sugar industry pioneer Etienne de Bore. Homer Plessy, one of the first activists against America's racial segregation laws, is also interred here. Unlike in many other burial grounds in the U.S., people have to pay to get in here.
5. Haunted History Tour
Visit the French Quarter's most iconic and frightening locations—hotspots for paranormal investigators and historical videographers—and hear tales of renowned hauntings from your local guide. This nocturnal walking tour of scary places all throughout the French Quarter, including the LaLaurie Mansion, will immerse you in New Orleans' haunting heritage.
6. Old Ursuline Convent
Comprised of several historic buildings that served as Ursuline convents in New Orleans, it is currently considered as one of the oldest surviving examples of the French colonial period style to be found in the US. Visitors can marvel at its architectural beauty as they learn about the history of the place.
7. Lake Pontchartrain At Sunset
Located at a peaceful spot away from the bustling city life of New Orleans, Lake Pontchartrain is actually an estuary that is connected to Gulf of Mexico. The levee bordering the south shore of the lake is a favourite spot for may locals to view breathtaking sunsets.
8. Partake In Midsummer Mardi Gras
Mardi Gras, or "Fat Tuesday," which marks the start of the Christian Lent season, is celebrated with great pomp and enthusiasm in New Orleans. Starting with weeks of parades, with locals partaking in the jovial event, it is definitely one of the unique highlights that can only be found in New Orleans.
9. The National Wwii Museum
The National WWII Museum, located in New Orleans, is a military museum which retells the story of World War II. It features informative exhibits that aim to educate visitors everything about the war such as the challenges faced by common people who were usually the victims of war. Visitors who want to learn more about this dark era should check out the museum as it features the rich history of the war.
10. Jackson Square
Jackson Square is 2.5 acres historic park located in the French Quarter of New Orleans, Louisiana. Park which is one of the most popular landmarks of New Orleans is named after the statue of Andrew Jackson which stands in the center of the square. Both sides of the square are historic French buildings that are more than a century old. Square hosts several weddings, photography sessions and concerts regularly.
11. French Quarter
French Quarter, located in New Orleans, is the place to be for those who love and admire architecture. It is regarded as the city's residential area and historical center where it houses some of the oldest buildings in the city. It was built during the 18th century under the Spanish rule. Visitors should definitely check out French Quarter and see the stunning architectures of the different houses.
12. St. Louis Cathedral
Tourists looking for a quiet and serene place to pray and worship the Lord will be delighted to visit the St. Louis Cathedral. It is located in New Orleans and is the oldest active Catholic Church in the country. Visitors would surely have a pleasant time at the cathedral as it s quiet most of the time and also offers a beautiful scenery and archihtecture.
13. City Park
This 1,300-acre public park gives everyone free access to some fun attractions. After spending some time in the steel and concrete of the highly cultural Louisiana city, you may head over to City Park to relax, take a walk or rent watercraft like kayaks and paddle boats. The park also has a mini-golf course and a sculpture garden.
14. Mercedes-Benz Superdome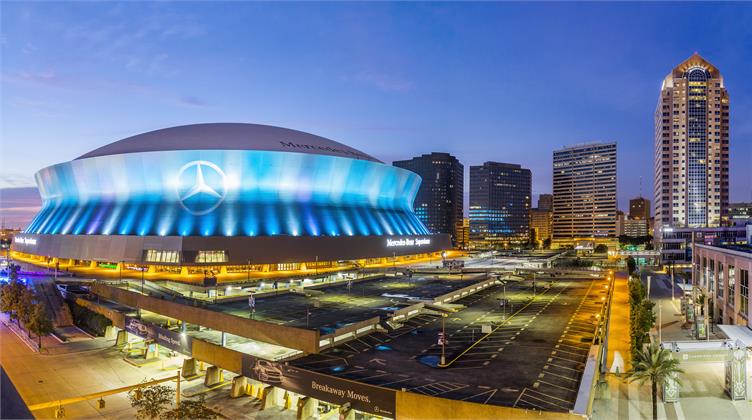 The Mercedes-Benz Superdome is established as a premier destination for every type of event, and the grand structure builds on that legacy continually & guest services and security staffs will provide entry/re-entry at all major arena exits, allowing guests with sensory issues to step outside the arena and then re-enter, if needed.
15. Mississippi River Cruise
Featured in several songs and fictional works (including the works of the legendary Mark Twain), the Mississippi River holds an almost irreplaceable spot in the American history. A cruise on the Mississippi River takes you across several iconic landmarks including a Civil War battlefield.
16. Have A Coffee At Cafe Du Monde
Café du Monde is a well-known open-air coffee café in New Orleans' French Quarter, located on Decatur Street. It is a tourist attraction and a New Orleans landmark. Its chicory coffee is readily accessible throughout the continental United States. Other French practices, such as the beignet, were brought to Louisiana by Acadians from Nova Scotia in the 18th century.
Visit New Orleans to book a budget friendly trip!